Coconut Chutney(V,GF) – south Indian style simple & easy coconut dip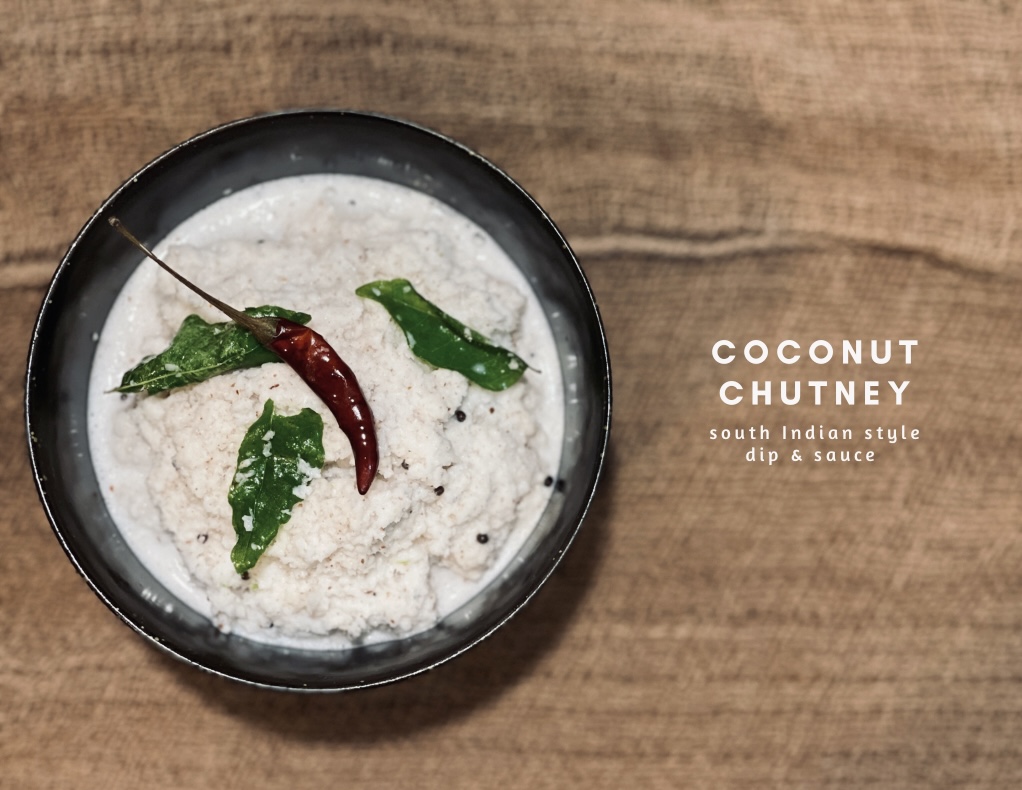 South Indian Classic dip & sauce. basically they eat with Dosa(fermented rice & bean crepe), Idli(fermented rice & bean steam cake) or Vada(bean croquette). so yummy and super easy recipe.
Recipe:
INGREDIENTS: for 2-3servings

・150g Grated Fresh Coconut/coconut flake/shredded coconut
・150ml Spring Water(if you use dried coconut please adjust amount)
・20g Ginger
・1-2 Green Chili
・1 tbsp Cold Pressed Coconut Oil
・1 /2 tsp Mustard seed
・7-10 Curry Leaves
INSTRUCTIONS:
1. Coconut, water, salt, ginger and chili(remove seeds if you need) to the blender and blend well.
2. Place coconut oil, mustard seed and curry leaves to the pan and stir-fry until aromatic.
3. In a bowl, 1 & 2 together and combine. 
4. Enjoy with steam or grilled Veggies, bread even with rice so yum!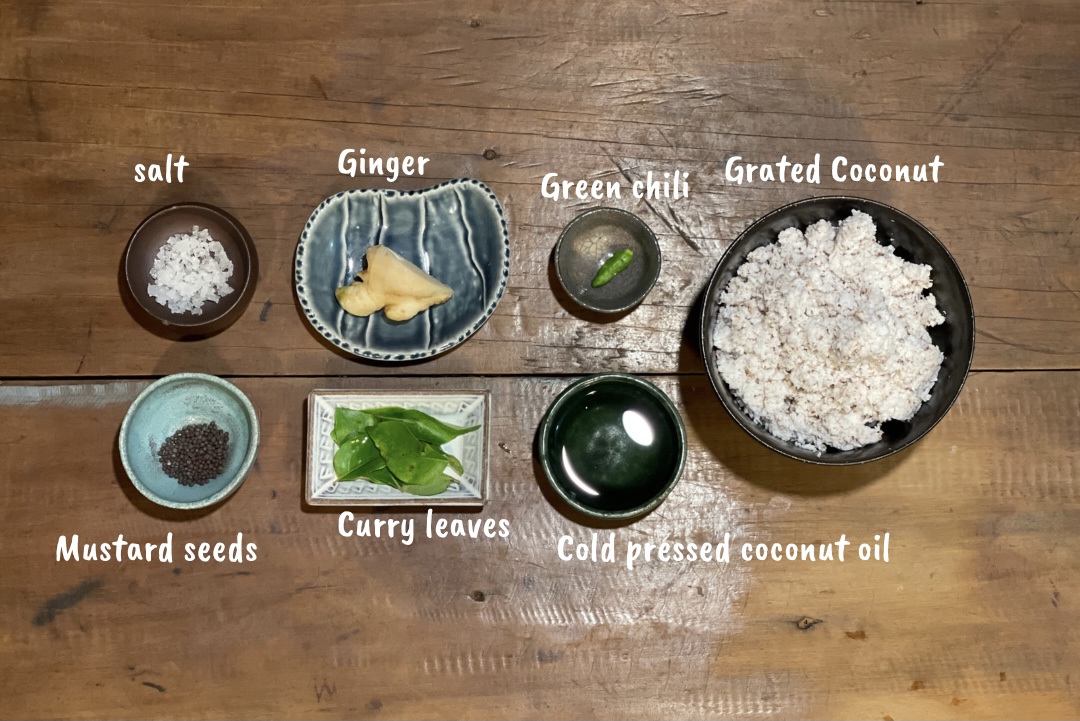 Note: you can arrange add coriander, tomato etc…
---
Don't forget to tag #uguisu_kitchen_plantbased and @uguisu_kitchen_plantbased on Instagram if you remake any of our recipes.
We do love to see your recreations 😉
---
ココナッツチャツネ(V,GF)- 南インドの定番ディップ
南インドで定番のココナッツチャツネ、通常はドーサと呼ばれる米と豆を発酵させた生地のクレープのようなものや、同じく米と豆を発酵させて蒸し上げたイドリと呼ばれる米蒸しパン、またはワダと呼ばれる豆のドーナッツには必ず付いてくるデップ/ソースです。作り方は非常に簡単。本場はフレッシュなココナッツの果肉を削ったもので作りますが、ドライのココナッツフレークでも作ることが可能です。これが本当に美味しくて、蒸し野菜や焼き野菜、パンにご飯に何でもマッチする万能ソース、ディップです。
材料:お椀一杯

・ココナッツの果肉を削ったもの/ココナッツフレーク 150g
・天然水 150g(ココナッツフレークやシュレッド等ドライを使う場合はもう少し足してください)
・生姜 20g
・グリーンチリ 1-2本
・コールドプレスココナッツオイル 大1
・マスタードシード 小1/2
・カレーリーフ 7−10枚
作り方:
1. ココナッツ、水、塩、生姜とグリーンチリ(必要であれば種をとる)をブレンダーに入れ、よく攪拌します。
2. フライパンにココナッツオイル、マスタードシード、カレーリーフを入れ香りが出るまで炒めます。
3. ボウルに1と2を合わせよく混ぜて、出来上がり。
Note:お好みでパクチーを加えたり、トマトを加えたりアレンジしてみて下さい。
●アリサン オーガニックココナッツフレーク

●オーガニックココナッツオイル
なんでも美味しくしてしまう魔法のオイル♪
リンク
●カレーの木(カレーリーフの木)
カレーリーフはドライだと香りが飛んでしまうのでフレッシュが一番。寒さに弱い以外は育てやすいので苗で持っておくのがおすすめです。
リンク
---
オススメのオーガニック材料をライフジャーナルにて紹介しています。またちょっとした生活に役立つ知恵袋も更新しているので是非、ブックマークよろしくお願いします。
インスタグラムに投稿する際は、#uguisu_kitchen_plantbased & @uguisu_kitchen_plantbased を忘れずに!皆様のアレンジ楽しみにしています。