Walnut Hemp Miso(V,GF) – sweet miso dip & spread with walnut and hemp seed.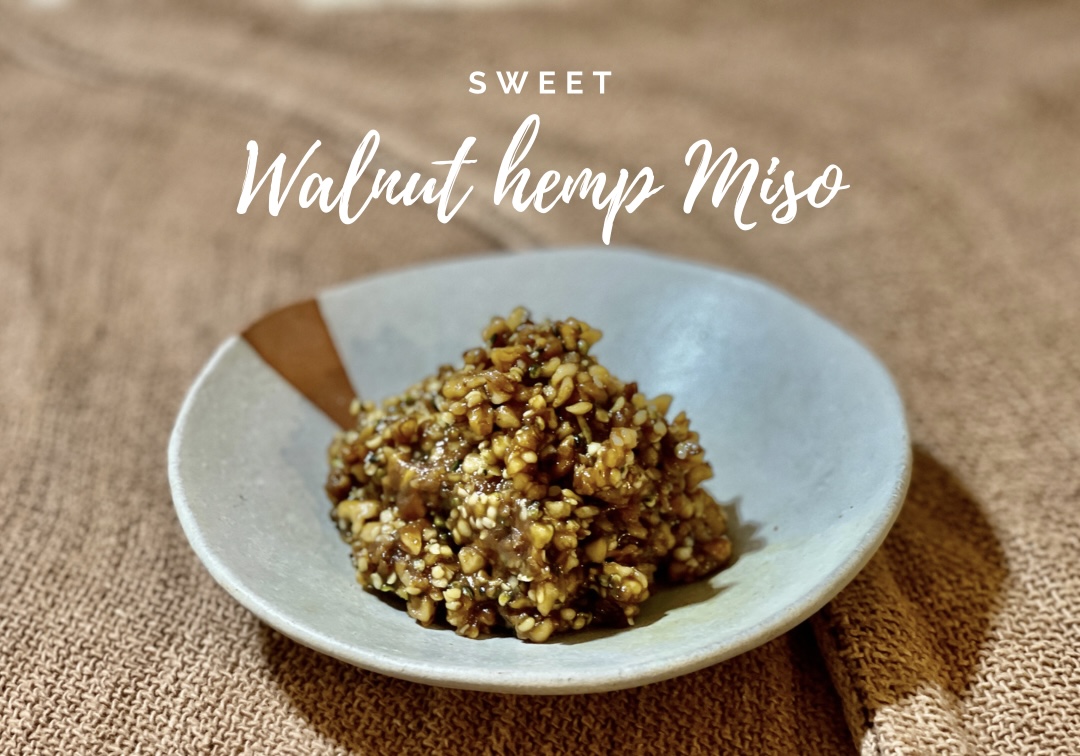 Walnut miso is traditional in Shinshu province Japan. we arrange this walnut miso with hemp seed. this is not suit for miso soup. enjoy like a dip or spread. if you want to make more smooth, process walnut first. very nice combination with steamed veggies, Mochi or even just cooked rice.
RECIPE:
INGREDIENTS:
・100g Miso(we use Gennai Koji chickpea miso)
・100g Walnut
・50g Coconut Palm Sugar( if you use white Koji miso, that's already sweet so pls adjust sugar amount)
・50cc Spring Water
・3 tbsp Hemp seed nut

INSTRUCTIONS:
1. Place all Ingredients to the small pot (except Hemp seed) and combine. heat it until sugar melted and cook of the excess liquid.
2. when it cool down, add hemp seed and mix. Enjoy.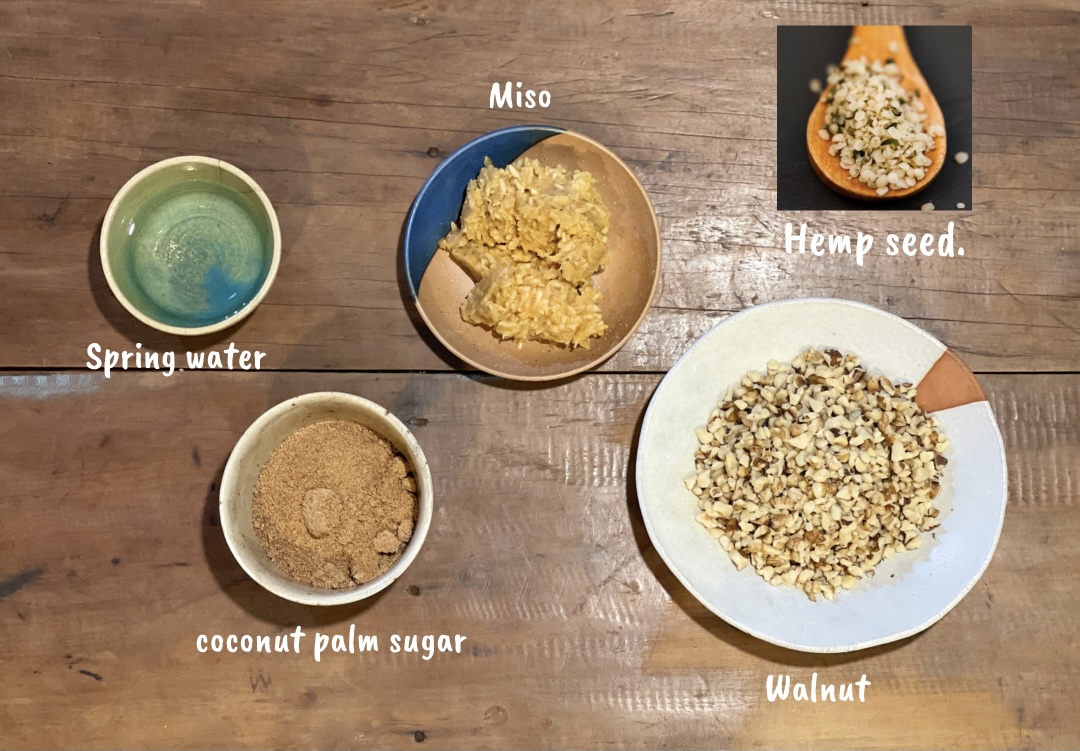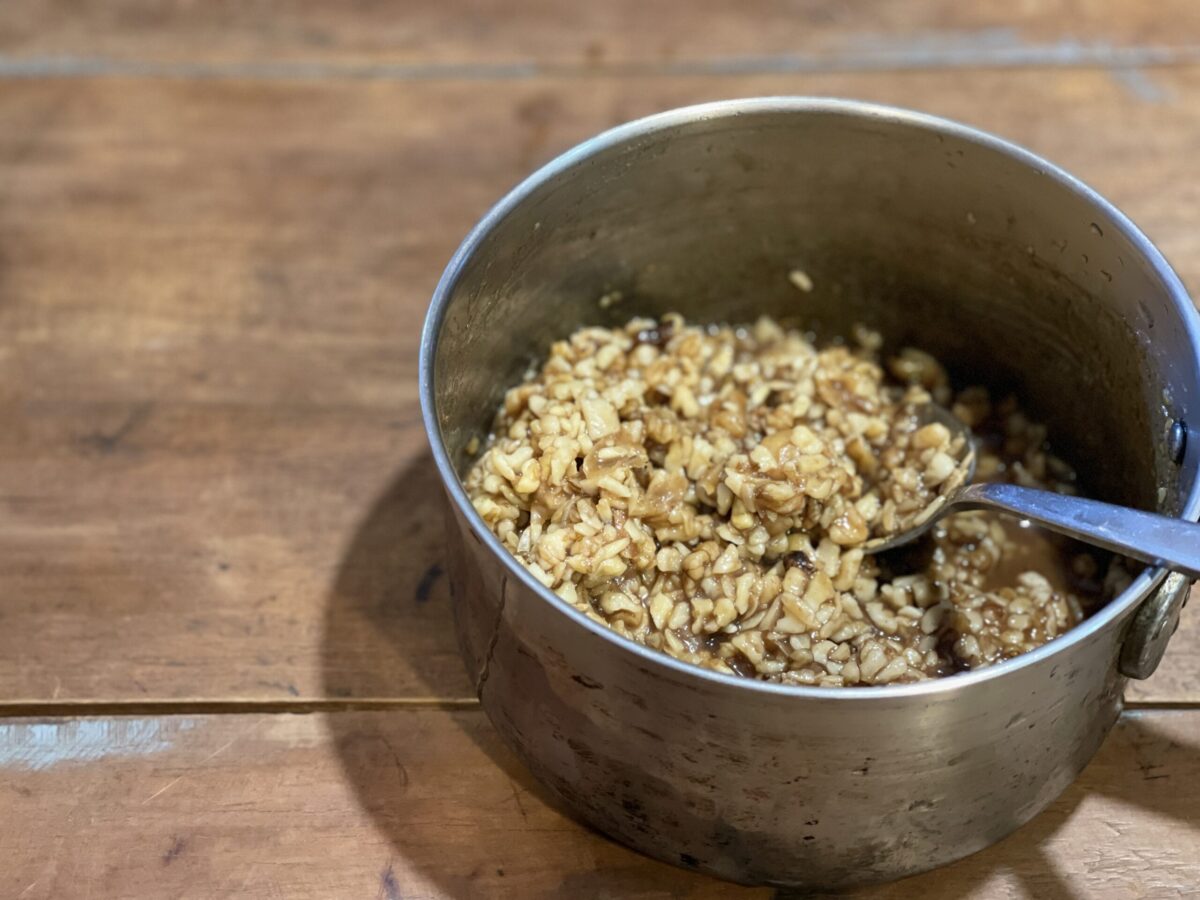 most commercial Miso is the Fake. they may contain MSG or Artificial flavouring and also Sanitized. Real MISO is Live Food. keep Fermentation so has a lots of Enzymes. and if you can find GENMAI MISO, we recommended that. more rich and savory than Normal MISO.
☟you can find Real GENMAI MISO here☟
・Organic GENMAI MISO
 at iHerb. I'm not sure this is Sanitized or not but good quality.
at iHerb.com 5% discount buy from here!
---
Don't forget to tag #uguisu_kitchen_plantbased and @uguisu_kitchen_plantbasedon Instagram if you remake any of our recipes.
We do love to see your recreations 😉
---
ヘンプ入りくるみ味噌(V,GF )
子どもの頃、よく信州へ旅行に連れて行かれました。その時食べたくるみ味噌、美味しかったのをよく覚えています。お餅につけても、蒸し野菜につけても、ご飯のお供にしても最高。今回はそんな懐かしのくるみ味噌にヘンプシードをプラスして栄養価アップ。我が家で味噌は自家製なのですが、暑い国なので時折過発酵気味になり、アルコール臭が出てしまうことも。そんな時はこんな風に、アレンジ味噌にして美味しくいただいてしまいます。
材料:
・味噌 100g(このレシピでは玄米麹ひよこ豆味噌を使います)
・くるみ 100g
・オーガニックパームシュガー 50g(味噌が白米麹で甘めの場合は減らしてください)
・天然水 50cc
・ヘンプシードナッツ 大3
作り方:
1. 全ての材料を小鍋に入れ、よく混ぜ、砂糖が溶けて余計な水分が飛ぶまで絶えずかき混ぜながら中火にかけます。
2. 荒熱が取れたら、ヘンプシードを入れよく混ぜ合わせて出来上がり。
蒸し野菜、焼き野菜、生野菜、生春巻き、なんでも合う栄養満点の味噌ダレです。我が家は生春巻きや蒸し野菜と一緒にいただくことが多いです。みりんがあれば、砂糖を減らしてみりんを追加してください。滑らかにしたい場合はくるみをすり鉢でするか、フードプロセッサーなどで細かくしてから作ると舌触りのいいくるみ味噌になります。
味噌はできれば、自家製で玄米味噌が理想です。普通の味噌と玄米味噌では旨味と深みが全然違います。そうでない場合は加熱処理のされていない、生きた生味噌を選びましょう。市販の味噌は大抵、殺菌処理がされています。○こめ味噌なんて持ってのほか、あれは味噌ではありません。残念ながら紹介できる中で全てを満たした完璧な味噌はありません。ですから、自家製をお勧めしてます。
☟そんな中でも、こちらはいい味噌だと思います☟



人間に必要なミネラル、タンパク質を効率よく摂取できるヘンプシードは我が家の常備品
★iHerbでオススメのナッツ/シードを一覧にしました。
---
オススメのオーガニック材料をライフジャーナルにて紹介しています。またちょっとした生活に役立つ知恵袋も更新しているので是非、ブックマークしてね。
インスタグラムに投稿する際は、#uguisu_kitchen_plantbased のタグ、@uguisu_kitchen_plantbased を忘れずに!皆様のアレンジ楽しみにしています。
---
Enjoy.