Vegan Miso Soup(V,GF) – how to make delicious miso soup without fish broth.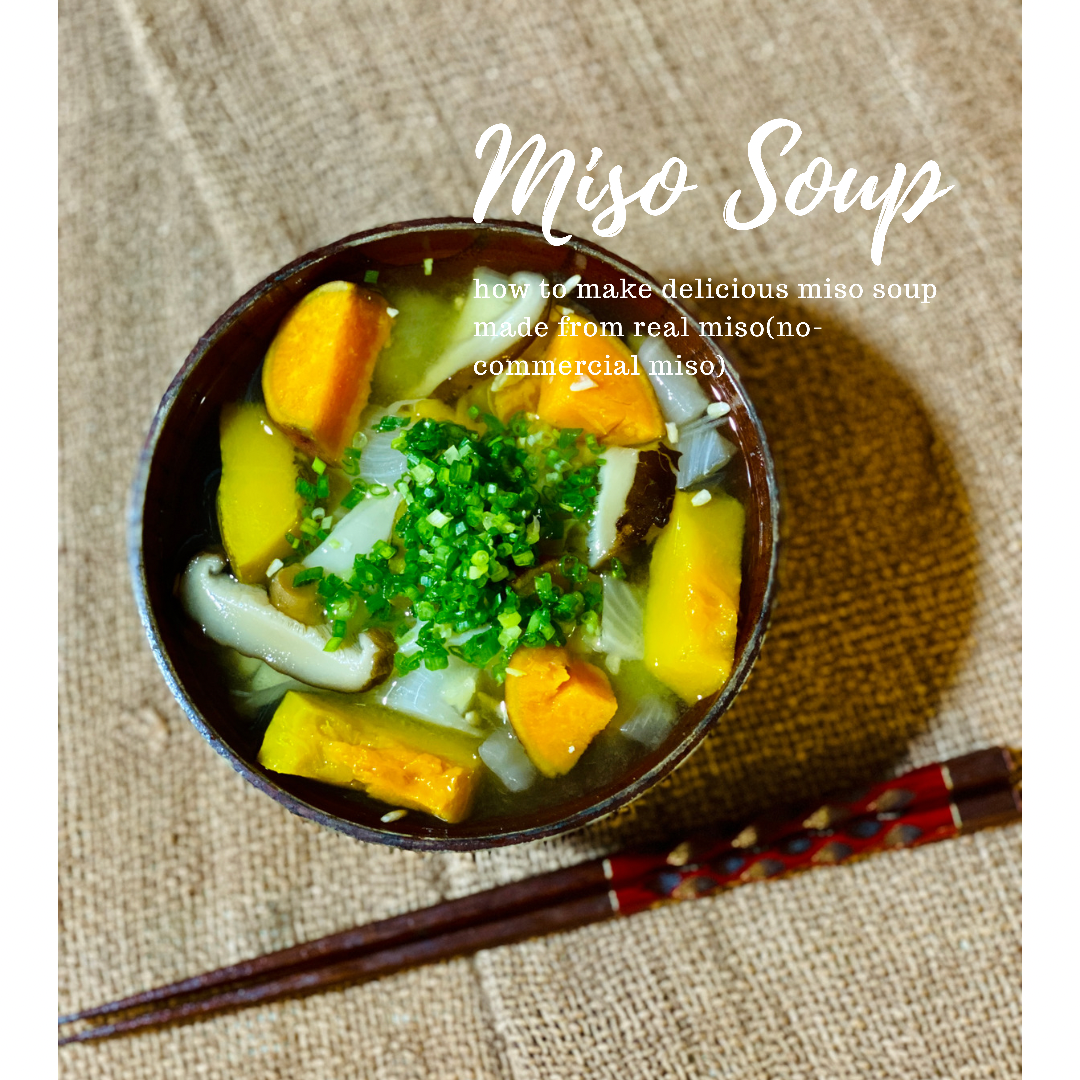 Miso soup is usually made with DASHI(soup made from Fish)but you can make delicious miso soup without that. you need dried shiitake mushroom instead Fish soup. don't forget soaked shiitake the day before one.
Recipe:
INGREDIENTS
 serving 5-6 :

・2 small dried shiitake mushroom
・150cc Spring Water
・150g Onion
・your choice of veggies
・850cc Spring Water
・120g real Miso(suggest Brown Rice Miso)

Method:
1. Soaking dried Shiitake Mushroom with Spring Water until covered shiitake (150cc in this time) in Fridge overnight.
2. Cut the Onion, soaked Shiitake Mushroom and your favorite Veggies.
3. Place the all Veggies(include Shiitake), Shiitake water and Spring Water to the Pot and Boiling in medium heat.
4. When it's boiling, turn to low heat and simmer in 7-8min until Veggies are soft.
5. Veggies are getting soft, turn off the burner and add Miso little by little.
⚠️DO NOT BOIL miso soup because it loses nutrients, flavors, and fragrance real MISO is live food when overheated will be dead.
⚠️Please adjust the water amount total(shiitake water and spring water)1L.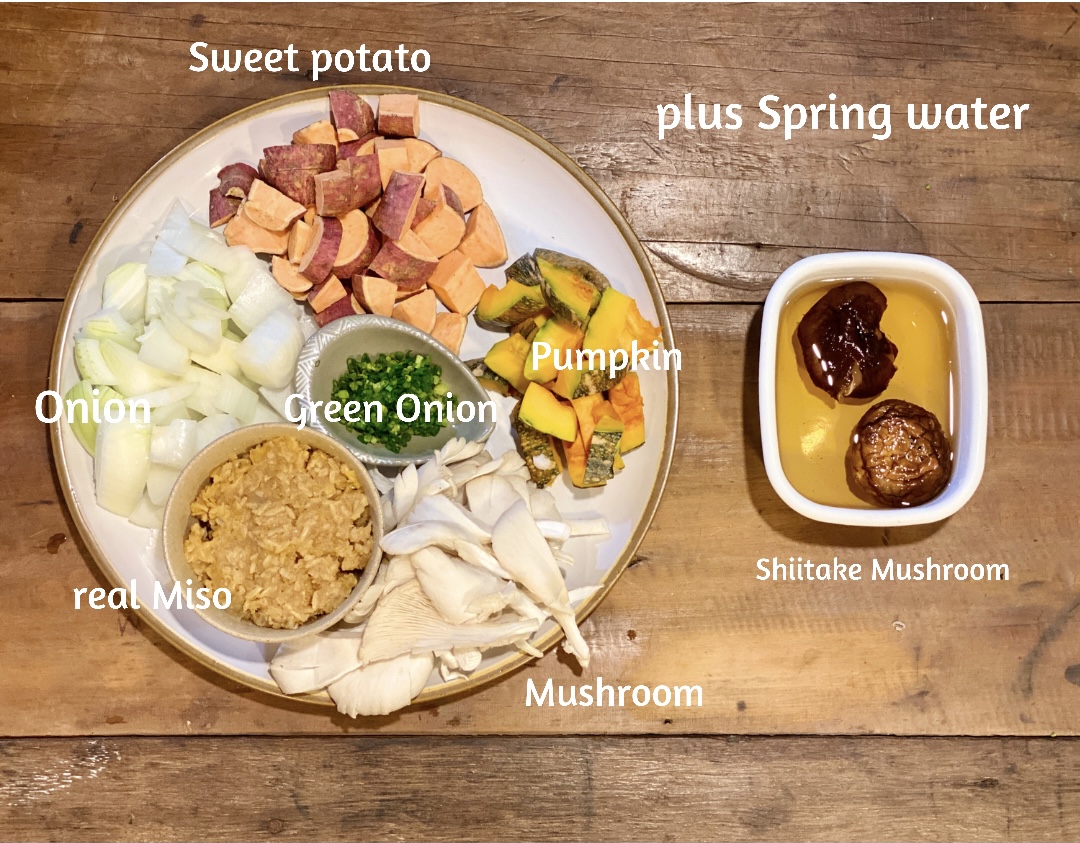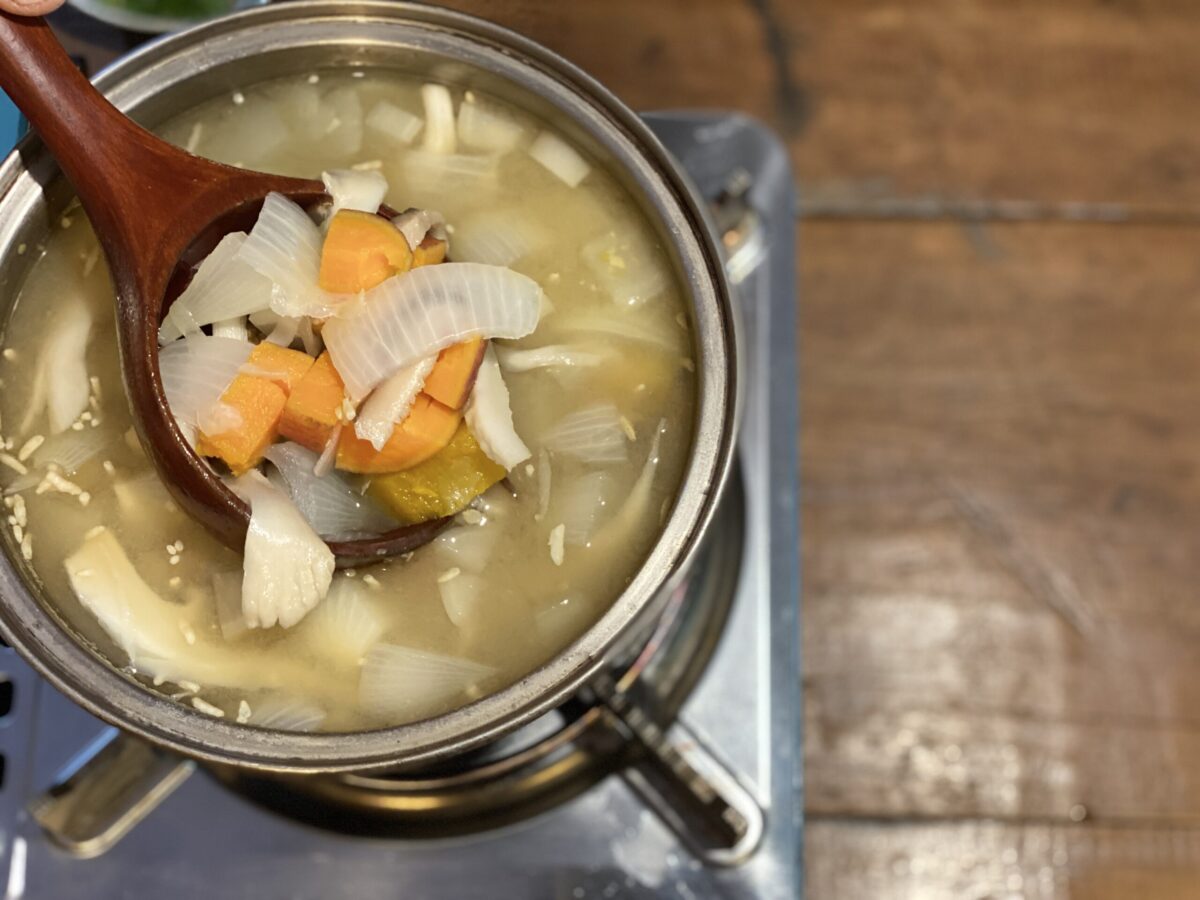 ●Non-GMO, Gluten free Organic Brown Rice MISO
⚠️not sure is this unpasteurized or not but great.


Ingredients:Organic whole soybeans, organic brown rice, sea salt, water, koji aspergillus oryzae
---
●Non-GMO, Gluten free Organic Brown Rice MISO(unpasteurized)
Ingredients: Organic Whole Soybeans, Organic Handmade Rice Koji, Sun Dried Sea Salt, Blue Ridge Mtn Well Water, And Koji Spores.
---
at iHerb.com
you can get 5% discount buy from here.
---
you can check how to make: on Instagram stories or Highlights.
Don't forget to tag #uguisu_kitchen_plantbased and @uguisu_kitchen_plantbased on Instagram if you remake any of our recipes.
We do love to see your recreations 😉
---
椎茸出汁で作るヴィーガン味噌汁(V,GF) – 昆布もいらないシンプルで美味しい精進味噌汁のレシピ
味噌汁は意外にも、出汁の影響でベジタリアン対応ではありません。昆布もちょっと微妙なケースも見られる。かといって、味噌だけで作っても味気ない。ヴィーガンフードを提供していた我が家の味噌汁は椎茸出汁のみ。これがとっても美味しくて、今では味噌汁といえば椎茸出しとなりました。椎茸スープは血圧を下げる効果があるとも、言われています。
材料:
5-6人前:

・干し椎茸 小さめ2つ
・天然水 150cc
・玉ねぎ 150g
・お好みの野菜 適量
・天然水 850cc
・味噌(無添加玄米味噌がオススメ) 120g
作り方:
1.
椎茸を戻します。前日に干し椎茸にかぶる程度の水(今回は150cc)を入れ冷蔵庫で一晩置いておきます。
2.
玉ねぎ、浸水した椎茸、お好みの野菜を食べやすい大きさにカットし、鍋に椎茸だし、分量の天然水とともに入れ沸騰させます。
3.
沸騰したら弱火にして7-8分、弱火で野菜にしっかりと火が通るまで加熱します。
4.
野菜に火が通ったら、火を止めて味噌を溶き入れて器にもり刻み葱を乗せて出来上がり。
⚠️味噌を入れたら沸騰させないこと、沸騰したら弱火で火入れをすること。でないと生きた味噌の酵素が死んでしまいます。また香りも変化しますので、そこは慎重に行いましょう。
⚠️水の量が合計(椎茸出汁と後から加える水)1Lになるように調整してください。
我が家の味噌汁はいつも椎茸出汁のみ。これで美味しくできるのは玄米味噌&天然水だから。白米麹で作った味噌とはコクが違います。玄米味噌なら極端な話、出汁がなくても楽しめるほど。魚出汁は不要、昆布すらなくても美味しくできるのです。使うお水もとても重要。美味しいお水ならご飯も美味しく炊けるし味噌汁やお茶、コーヒーも変わります。
●海の精 有機玄米味噌(加熱殺菌なしの生味噌)

リンク
 原材料:国産有機大豆、有機米、秩父の天然水、伝統海塩(海の精
●国産有機玄米味噌(加熱殺菌なしの生味噌)
(加熱殺菌なしの生味噌)
リンク
原材料:国産オーガニックの大豆、米と天日塩を使用し神泉の名水
---
インスタグラムのストーリー/ハイライトに工程のショート動画を載せていますので、参考にしてください。
オススメのオーガニック材料をライフジャーナルにて紹介しています。またちょっとした生活に役立つ知恵袋も更新しているので是非、ブックマークよろしくお願いします。
インスタグラムに投稿する際は、#uguisu_kitchen_plantbased & @uguisu_kitchen_plantbased を忘れずに!皆様のアレンジ楽しみにしています。