Grapao – thai style stir fried basil with mushroom and eggplant(V,GF)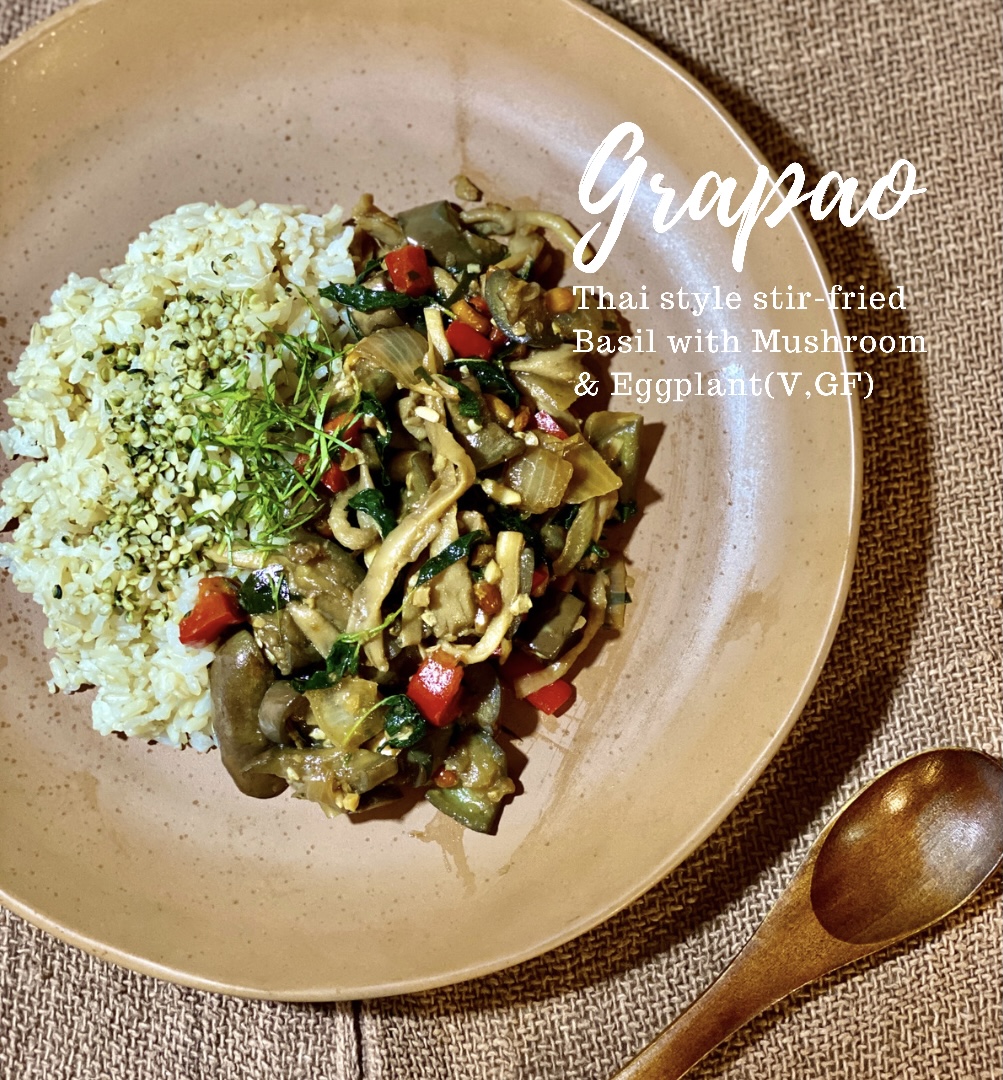 who doesn't like a Grapao? famous Thai cuisine Grapao made Vegan!
Recipe:
INGREDIENTS
serving 4-5
・150g Onion
・20g Ginger
・5g Garlic
・150g your choice of Mushroom
・450g Eggplant
・60g Red bell pepper
・25g Peanuts
・8 Kaffir Lime Leaves
・One bunch of Holy Basil
・15g Coconut Palm Sugar
・15g Miso
・20g Gluten free Soy sauce
・20g Shio Koji
・1 tsp Natural Salt
・Chili (Option)
Method:
1. Chopped garlic, ginger and onion. Cut the veggies into your size.
2. Remove the strings from the kaffir lime leaves. Pick the holy basil leaves.
3. Place the 2 tbsp of your choice of Oil (not-included the recipe)to the pan add garlic and ginger on low heat until aromatic.
4. Add onion, stir-fry on medium low heat until onion looks a bit clear. add eggplant, mushroom and red bell pepper. stir-fry until soft.
5. Add kaffir lime leaves, holy basil and peanut (if you like spicy put the chili now)stir-fry on medium heat.
6. Sprinkle coconut palm sugar, combine. add salt, shio koji, soy sauce and miso. mix well.
7. Enjoy with Brown Rice!
TIPS: must use plenty of holy basil.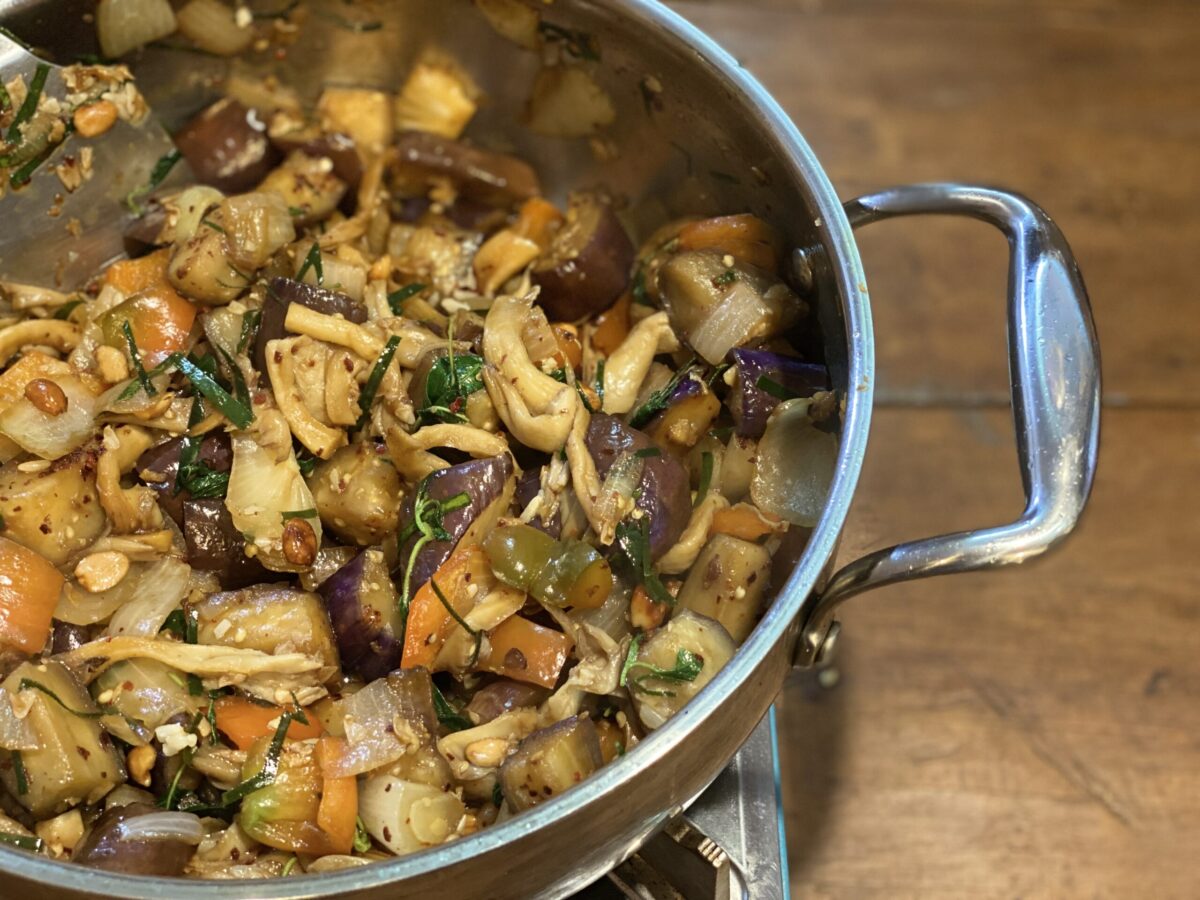 the Best Combination with Brown Ibis Rice.  
Hard to get or find Shio Koji? if you're in Cambodia, you can get from @Uguisusabou 
---
●Organic Kaffir Lime Leaves
at
 iHerb.com
you can get 5% discount buy from here.
---
you can check how to make: on Instagram stories or Highlights.
Don't forget to tag #uguisu_kitchen_plantbased and @uguisu_kitchen_plantbased on Instagram if you remake any of our recipes.
We do love to see your recreations 😉
---
きのことナスのガパオ – タイのバジル炒め(V,GF)
タイといえばガパオ!というくらいメジャーな一品でもあります。"ガパオ"とはホーリーバジルのこと。通常は鶏肉または牛肉のミンチで作り、オイスターソースやナンプラーを使って作ります。そこを醤油、塩麹、味噌を使って代用。十分美味しいガパオの完成です。
材料:
4-5人前

・玉ねぎ 150g
・生姜 20g
・ニンニク 5g
・お好みのキノコ類 150g
・ナス 450g
・赤パプリカ 60g
・ピーナッツ 25g
・こぶみかんの葉 8枚
・ホーリーバジル 一束
・ココナッツパームシュガー 15g
・味噌 15g
・グルテンフリー醤油 20g
・塩麹 20g
・天然塩 小1
作り方:
1. ニンニク、生姜をみじん切りにし、玉ねぎは小さくカット、野菜は食べやすい大きさに切っておきます。
2. こぶみかんの葉の筋を取り除きハサミで細長くカットし、ホーリーバジルの葉をピックしておきます。
3. フライパンにお好みの油(分量外)大2を入れ、ニンニクと生姜を弱火で香りが出るまで炒めます。
4. 香りが立ったら、玉ねぎを加えやや透明になるまで弱めの中火で炒めます。ナス、キノコ、パプリカも加えしんなりするまで炒めます。
5. こぶみかんの葉、ホーリーバジル、ピーナッツを加え中火で炒めます。(チリを入れる場合はここで)
6. 味付けをします。ココナッツパームシュガーを振りかけよく混ぜ合わせます。天然塩、塩麹、醤油、味噌を加え馴染ませたら出来上がり。
ポイント:ホーリーバジルは惜しげもなくたっぷり使いましょう。美味しくなります。
---
こぶみかんの葉は簡単に手に入るものではありませんが、売っています。これがあるとこのガドガドソースはもちろん、タイ料理を代表するトムヤムクンやガパオ、グリーンカレー作りに欠かせません。無しでも作ることは可能ですが、これがあるのと無いのでは香りが違い本格的に。冷凍保存ができるので、エスニック料理がお好きな方は是非、一度トライしてみてくださいね。
タイ料理にココナッツパームシュガーは欠かせません。これがあるから本場に近い味が出来上がるのです。

我が家でも現在愛用しているのは、オーガニックのグルテンフリー醤油です。

---
インスタグラムのストーリー/ハイライトに工程のショート動画を載せていますので、参考にしてください。
オススメのオーガニック材料をライフジャーナルにて紹介しています。またちょっとした生活に役立つ知恵袋も更新しているので是非、ブックマークよろしくお願いします。
インスタグラムに投稿する際は、#uguisu_kitchen_plantbased & @uguisu_kitchen_plantbased を忘れずに!皆様のアレンジ楽しみにしています。