Hemp seed nut mixed MISO Dressing / Dip(V,GF) – Sweet and Sour all Purpose sauce.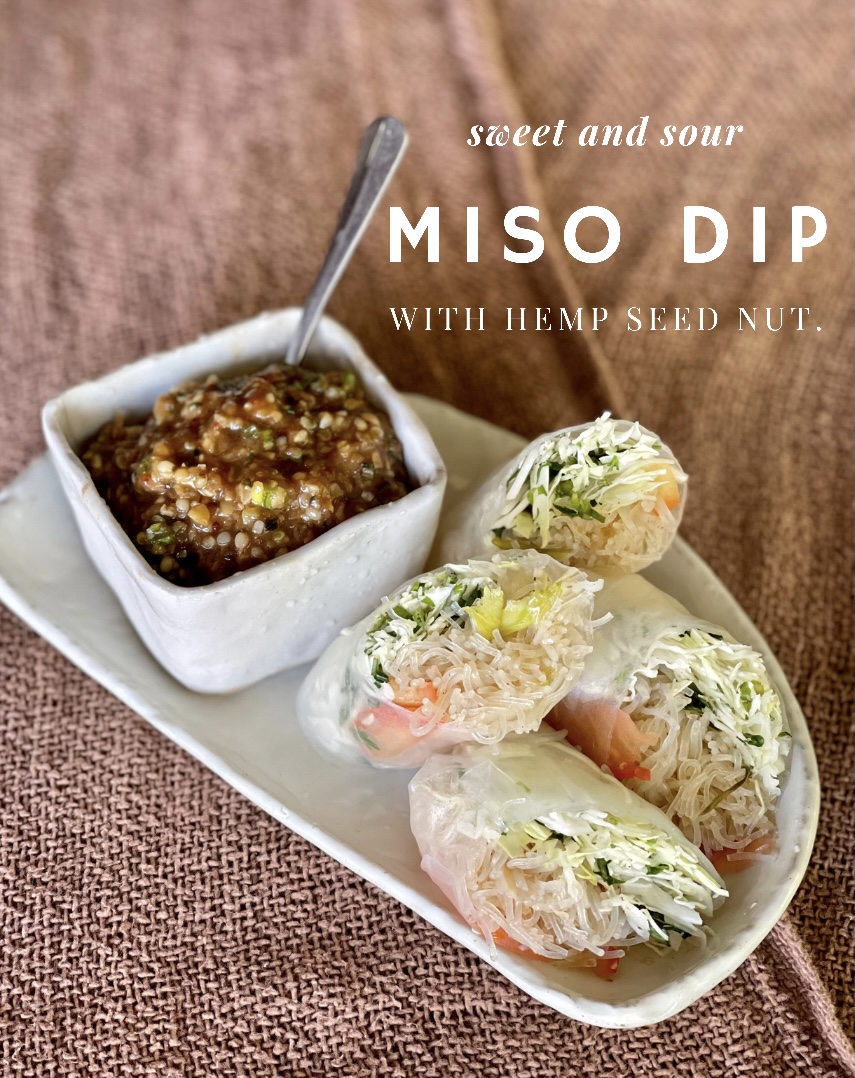 Miso corroborated with Hemp seed Nut. Sweet and Sour Nutty Miso Dip. The Best Combination with Fresh, Steamed, Grilled Veggies, Spring Rolls, Tempeh or Tofu. Be sure, you need to choose Real MISO. 
RECIPE:
INGREDIENTS:
・60g Miso
・2 tbs Vinegar
・12g Grated Ginger
・20g Coconut Palm Sugar
・20g Hemp seed Nut
・20g Chili Jam(Option)
・2 tbs Extra Virgin Olive Oil
・10g Lime or Lemon Juice
・1 tsp Chili Flakes
・Chives
INSTRUCTIONS:
Place the all Ingredients to the Bowl and stir well. Enjoy with Fresh, Steam, Grilled Veggies or Spring Rolls.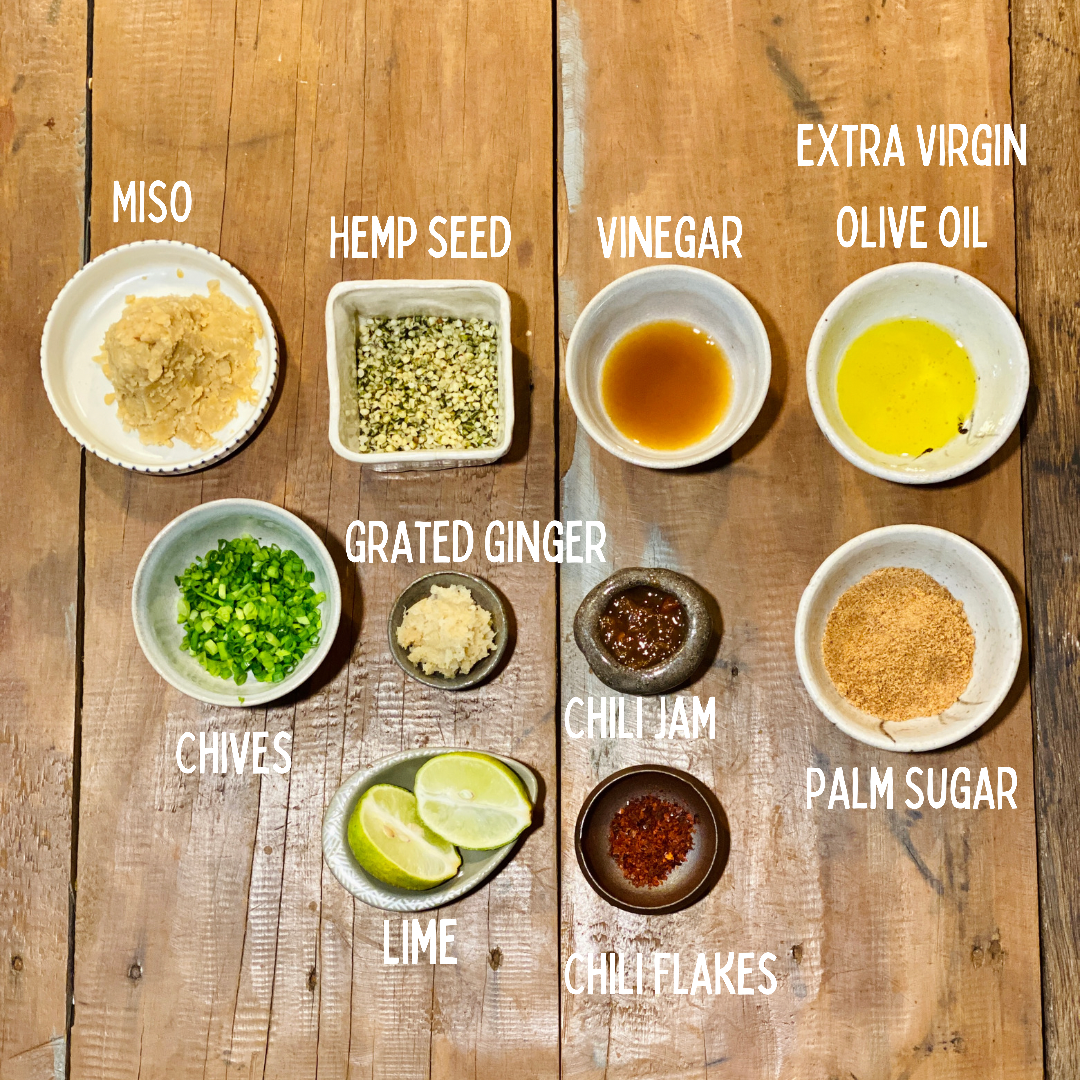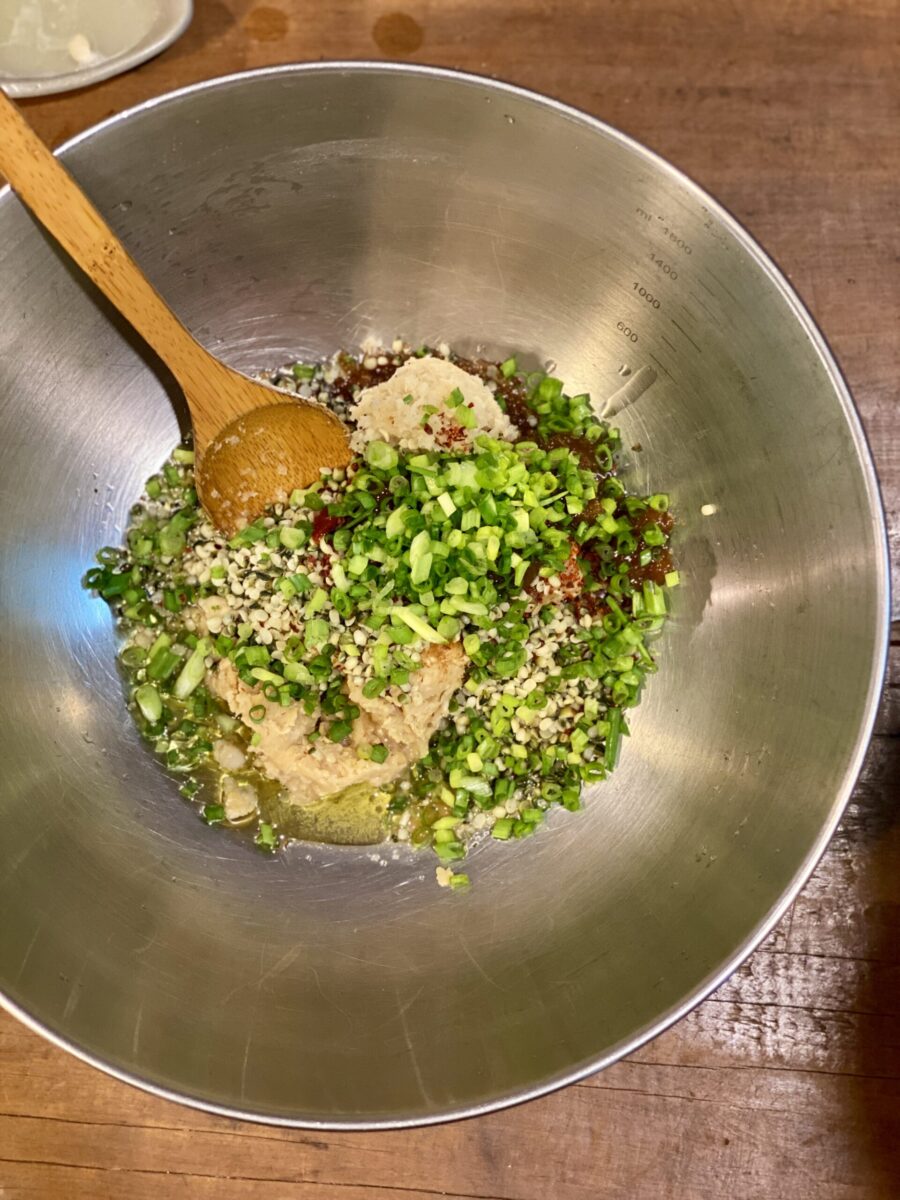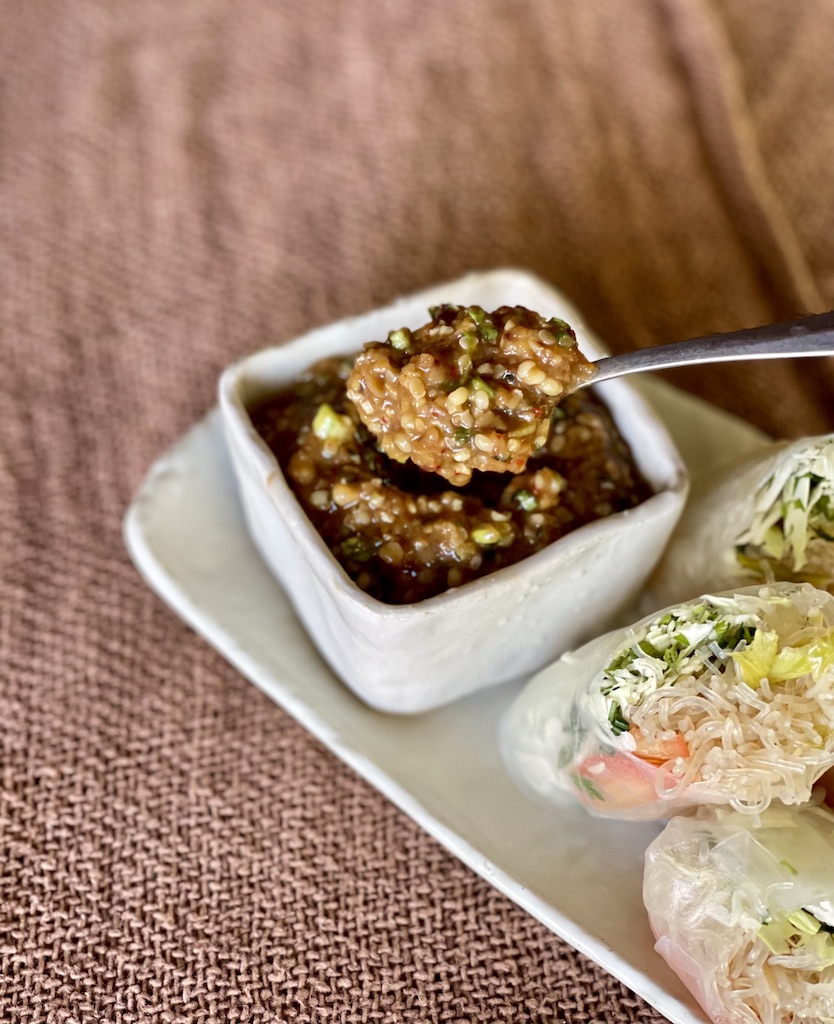 most commercial Miso is the Fake. they may contain MSG or Artificial flavouring and also Sanitized. Real MISO is Live Food. keep Fermentation so has a lots of Enzymes. and if you can find GENMAI MISO, we recommended that. more rich and savory than Normal MISO.
☟you can find Real GENMAI MISO here☟
・Organic GENMAI MISO
 at iHerb. I'm not sure this is Sanitized or not but good quality.
---
Don't forget to tag #uguisu_kitchen_plantbased and @uguisu_kitchen_plantbasedon Instagram if you remake any of our recipes.
We do love to see your recreations 😉
---
ヘンプシードを入れた酢味噌ダレ
ヘンプシードを使ったレシピ、自家製玄米味噌とヘンプシード、お酢と甘味を合わせて何にでも合う味噌ダレができました。
材料:
・味噌 60g
・酢 大2
・ココナッツ/パームシュガー 20g
・ヘンプシード 20g
・おろし生姜 12g
・チリジャム 20g(なくても可)
・エクストラバージンオリーブオイル 大2
・ライム/レモン汁 10g
・チリフレーク 小1
・ネギ/ワケギ 適量
作り方:
全ての材料をボウルに入れ、よくかき混ぜて出来上がり。
蒸し野菜、焼き野菜、生野菜、生春巻き、なんでも合う栄養満点の味噌ダレです。我が家は生春巻きや蒸し野菜と一緒にいただくことが多いです。
味噌はできれば、自家製で玄米味噌が理想です。普通の味噌と玄米味噌では旨味と深みが全然違います。そうでない場合は加熱処理のされていない、生きた生味噌を選びましょう。市販の味噌は大抵、殺菌処理がされています。○こめ味噌なんて持ってのほか、あれは味噌ではありません。残念ながら紹介できる中で全てを満たした完璧な味噌はありません。ですから、自家製をお勧めしてます。
☟そんな中でも、こちらはいい味噌だと思います☟

リンク


人間に必要なミネラル、タンパク質を効率よく摂取できるヘンプシードは我が家の常備品
リンク
---
オススメのオーガニック材料をライフジャーナルにて紹介しています。またちょっとした生活に役立つ知恵袋も更新しているので是非、ブックマークしてね。
インスタグラムに投稿する際は、#uguisu_kitchen_plantbased のタグ、@uguisu_kitchen_plantbased を忘れずに!皆様のアレンジ楽しみにしています。
---
Enjoy.