Carameliser Hemp Sweet Potato(V,GF) – Japanese style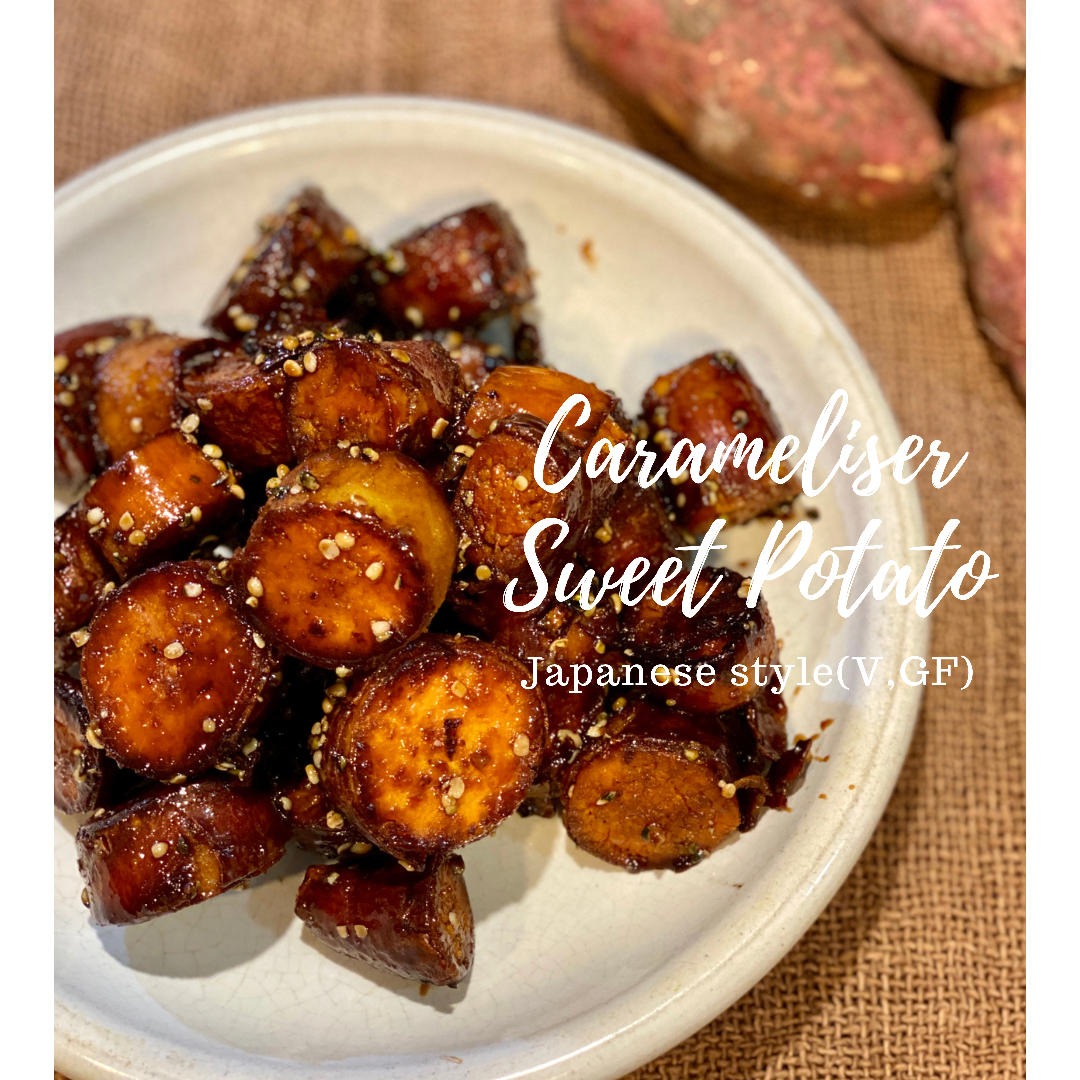 Traditional Japanese style made with black sesame. I arranged with Hemp seed. we're sure you gonna loved it!
Recipe:
INGREDIENTS
serving 3-4

・600g Sweet Potato
・5 tbsp Coconut Palm Sugar
・1 tbsp Gluten Free Soy Sauce
・2 tsp Hemp Seed Nut
・20g Spring Water
・2/3 tsp Natural Salt
・Oil for shallow fry (suggest Cold Pressed Rice Oil or Coconut Oil)

Method:
1. Set up the Steamer and Steam the Sweet Potato in medium low heat about 15 min.
2. Cut the Sweet Potato into bite size.
3. In the Pan, add Oil for shallow fry and heat it in medium heat. when enough heated add sweet potatoes until skin become crisp.
4. Change the pan, place the spring water. coconut palm sugar, salt and soy sauce and heat it until sugar totally melted.
5. Add sweet potato and combine. sprinkle the hemp seed nut and Enjoy.
Normally, this Caramelised Sweet Potato made with deep-fry and use granulated sugar. I can't say Healthy and can't recommended. so this recipe use coconut sugar and less oil, no deep-fry. steam & shallow-fry. but, taste definitely delicious! must try it.
at
 iHerb.com
you can get 5% discount buy from here.
---
you can check how to make: on Instagram stories or Highlights.
Don't forget to tag #uguisu_kitchen_plantbased and @uguisu_kitchen_plantbased on Instagram if you remake any of our recipes.
We do love to see your recreations 😉
---
ココナッツシュガーで作る、ヘンプ大学芋(V,GF)
大学芋、美味しいですよね。でも今思えば揚げ物にグラニュー糖たーっぷり絡めて、、、身体は喜ばなそうな。そこをココナッツパームシュガーに変えて、通常黒ゴマがパラっとかかるところをヘンプシードナッツにして、身体が喜ぶ大学芋に変身。お弁当にも最適です。また、通常はサツマイモを揚げて、砂糖を絡めますが、先に蒸してから作ることで揚げ焼き程度の油で調理を済ませられるようにしました。
材料:
3−4人前

・サツマイモ 600g
・ココナッツ/パームシュガー 大5
・グルテンフリー醤油/醤油 大1
・ヘンプシードナッツ 大2
・天然水 20g
・天然塩 小2/3
・揚げ焼き用油(低温圧搾米油使用)
作り方:
1. サツマイモを蒸します。蒸し器をセットしてしっかりと温まったところにサツマイモを入れ少し芯が残る程度に蒸します(弱めの中火〜弱火で15分程)
2. 蒸し上がったら一口大にカットします。
3. フライパンに0.5cmほど油を敷き中火にかけます。油がしっかり温まったら、サツマイモを入れて表面がカリッとするまで揚げ焼きにします。
4. 鍋を変え、天然水、ココナッツシュガー 、塩、醤油を入れ軽く煮詰めます。(煮詰めすぎ注意)
5. 砂糖がしっかりと溶けて少しトロミが出たら、サツマイモを入れ全体に絡めます。ヘンプシードを入れよく混ぜて、出来上がり。
●揚げ物には米油がオススメです。
こちらの商品、オーガニックではありませんが国産の米油で低温圧搾で丁寧に絞られた商品です。オーガニックの米油というのは今のところ見たことがありません。
●ココナッツオイルで作るのもオススメです。
ココナッツオイルも加熱には非常に強いので揚げ物に向いています。またサツマイモとの相性は抜群で、大学芋にしなくとも、蒸したサツマイモをココナッツオイルで揚げ焼きにするだけでもたまらぬ美味しさです。
---
インスタグラムのストーリー/ハイライトに工程のショート動画を載せていますので、参考にしてください。
オススメのオーガニック材料をライフジャーナルにて紹介しています。またちょっとした生活に役立つ知恵袋も更新しているので是非、ブックマークよろしくお願いします。
インスタグラムに投稿する際は、#uguisu_kitchen_plantbased & @uguisu_kitchen_plantbased を忘れずに!皆様のアレンジ楽しみにしています。