Grilled Garlic Vinegar Pumpkin(V,GF) – easy making addictive Pumpkin.
When you learn how to use Vinegar, improve your Cooking Skills.
Recipe:
INGREDIENTS
serving 1
・450g Pumpkin
・1 clove Garlic
・5g Natural Salt
・10g Coconut Palm Sugar or Mirin
・30g Apple cider vinegar or Balsamic

Method:
1. Steaming Pumpkin. use bamboo skewer until soft enough to stab the pumpkin smoothly( do not steam too soft otherwise difficult to grill)
2. Slice Garlic and mixing well all seasonings( salt, sugar and vinegar)
3. Cut the pumpkin into your size. In a pan, pour the 1 tbsp of your choice of oil (not included the recipe), add sliced garlic on low heat until aromatic. take the garlic out and set aside.
4. Turn to medium low heat. add Pumpkin and grilling both side until golden brown.
5. When it's golden brown, pour the half of mixed seasonings all over the pumpkins. close lid and wait 1min.
6. Open the lid and turn over the pumpkins then add another mixed seasonings, close lid again. wait 1min.
7. Transfer to the plate and sprinkle Kampot Pepper and fresh parsley, Enjoy!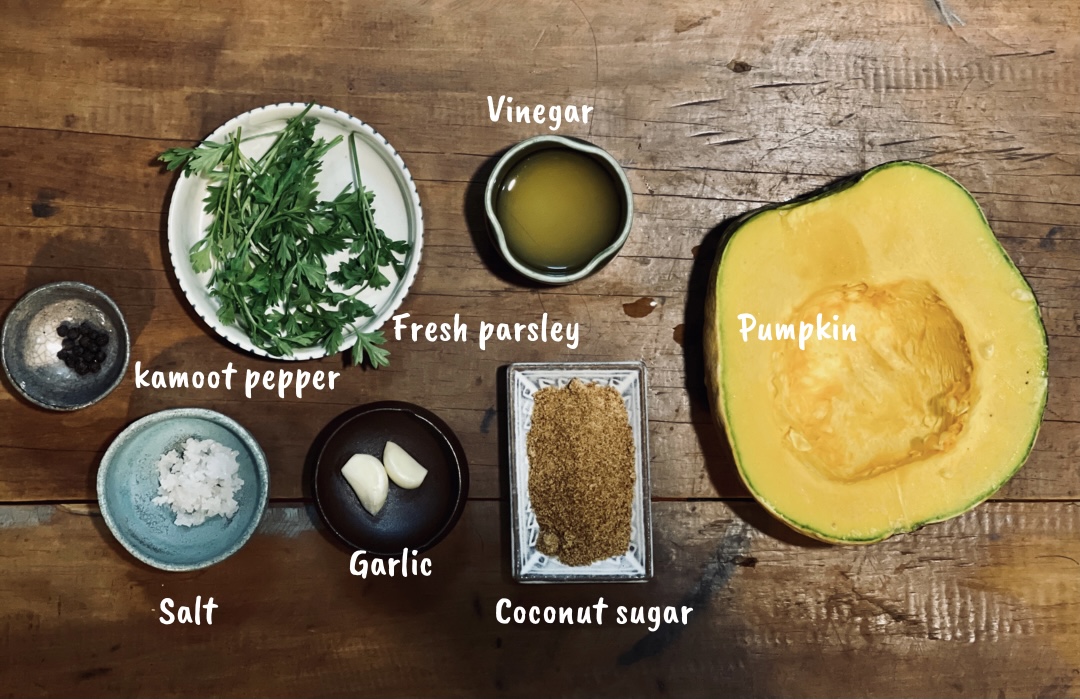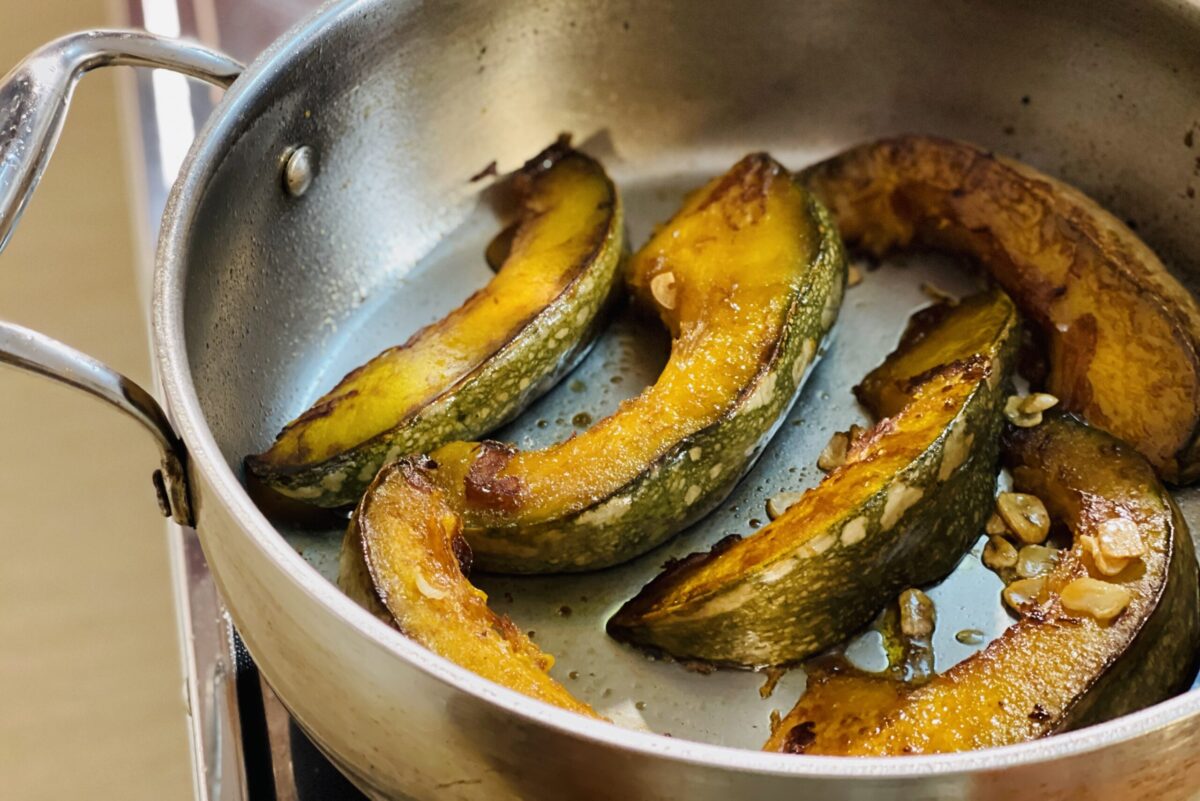 if you have Balsamic Vinegar, also very very tasty.
---
---
at iHerb.com
you can get 5% discount buy from here.
---
you can check how to make: on Instagram stories or Highlights.
Don't forget to tag #uguisu_kitchen_plantbased and @uguisu_kitchen_plantbased on Instagram if you remake any of our recipes.
We do love to see your recreations 😉
---
かぼちゃのビネガーグリル(V,GF)- ガーリック風味の止まらないかぼちゃグリル
お酢使いを覚えると、料理がまたワンランク上に。今回はほっくりかぼちゃを塩甘酢ダレで焼きました。これがクセになる美味しさで、最近の我が家のブームです。簡単でとっても美味しいので是非お試しください。冷めても美味しいのでお弁当にもオススメです。甘味にカンボジアの名産であるココナッツパームシュガーを使用していますが、お持ちの方はオーガニック味醂でも◎
材料:
3人前

・かぼちゃ 450g
・ニンニク 1かけ
・天然塩 5g
・ココナッツパームシュガー 10g (料理の風味を邪魔しないのでオススメの甘味料です)
・ビネガー 30g(自家製マンゴービネガーを使いました)
作り方:
1.

竹串がスッと通るまで、かぼちゃを蒸します。後で焼く際に柔らかすぎると扱い辛いので、少し固めくらいが丁度良いです。
2.

ニンニクをスライスし、調味料(塩、ビネガー、砂糖)をよく混ぜ合わせておきます。
3.

かぼちゃをお好みの大きさにカットして、フライパンにお好みの油(分量外)とニンニクを入れ弱火で油に香りを移します。油に香りが移ったら一旦ニンニクを取り出します。
4.

弱めの中火にしてかぼちゃを入れ、きつね色になるまで両面を焼きます。
5.

焼き色がついたら、かぼちゃ一つひとつに垂らすようにしてタレを入れ、蓋をして1分間蒸し焼きにします。
6.

蓋を開け、かぼちゃをひっくり返し、さらにタレをかけ、蓋をしてさらに1分蒸し焼きにしたら火を止めて、お皿に盛りカンポットペッパーとパセリを散らして出来上がり。
Note:バルサミコがあれば是非バルサミコでもお試しください。また違った美味しさが楽しめます。
---
●オーガニックエクストラバージンオリーブオイル ギリシャ産
スーパーに並ぶオリーブオイルの大半は偽物です。すっきりと軽くフルーティーな味わい。

●カンポットペッパー カンボジア産
カンポットペッパーと名乗れるのはオーガニックのみ。本物の胡椒です。
●オーガニックココナッツシュガー 
黒糖やデーツシロップと異なり料理の風味を邪魔しないのでとてもオススメです♪

---
★iHerbでもオススメのオイルを紹介しています。
★iHerbにもオーガニックみりんあります。
英語レシピ欄をチェック。
---
インスタグラムのストーリー/ハイライトに工程のショート動画を載せていますので、参考にしてください。
オススメのオーガニック材料をライフジャーナルにて紹介しています。またちょっとした生活に役立つ知恵袋も更新しているので是非、ブックマークよろしくお願いします。
インスタグラムに投稿する際は、#uguisu_kitchen_plantbased & @uguisu_kitchen_plantbased を忘れずに!皆様のアレンジ楽しみにしています。