Turnip cake(V,GF) – Easy step Chinese style sticky Daikon Radish cake.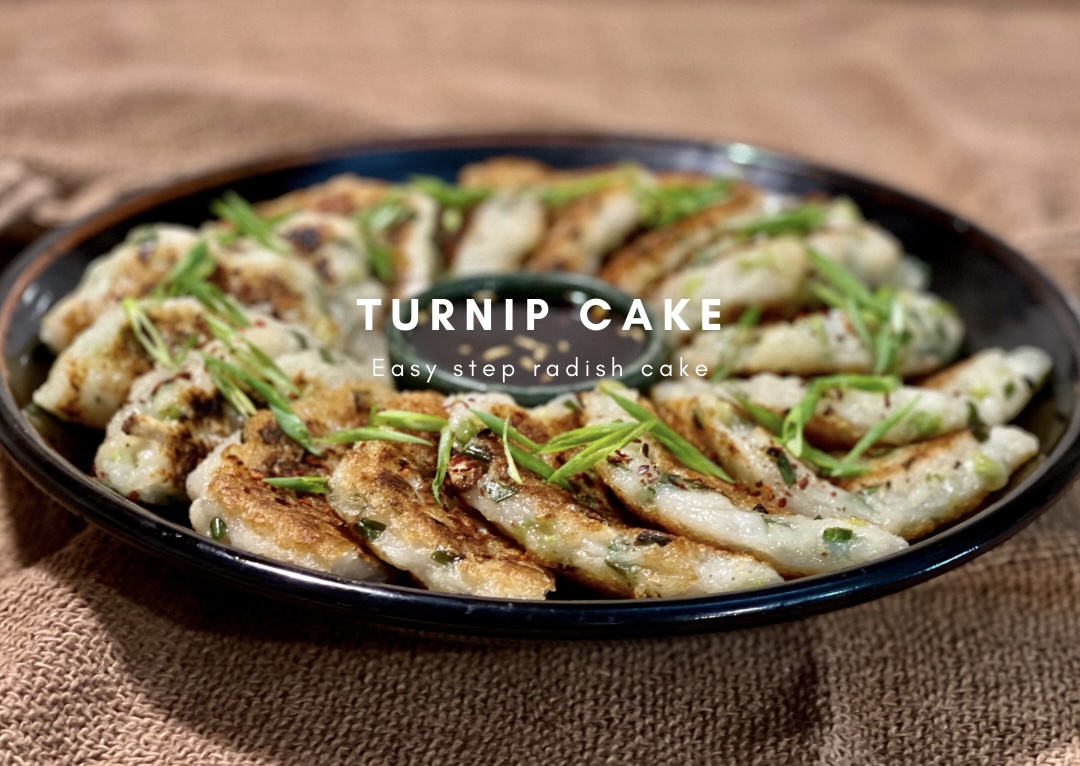 Recipe:
INGREDIENTS: for 4 servings

・600g Daikon Radish
・30g Chinese Chives
・130g Gluten Rice Flour
・130g Tapioca Flour
・2 small Shiitake soaked in 50cc Spring water (shiitake & water use both)
・Natural Salt as needed
・Kampot Pepper as needed

for Sauce:
・Gluten Free Soy Sauce
・Vinegar
・Mirin or Natural Sugar(option)
INSTRUCTIONS:
1. Grated Daikon Radish. Chopping Daikon Radish leaves, Chinese chives and Shiitake mushroom.
2. Place all Ingredients(include shiitake water) in a bowl and mixed well.
3. In a pan, pour the 1 tbsp of your choice of oil( I use cold pressed rice oil) and heat it in medium low heat.
4. When it heated enough, pour the Radish cake mix to the pan and turn to low heat. put the lid and fried in 5-7min each side.
5. making sauce. mixed soy sauce and vinegar 1:1 if you like a bit sweeter, add mirin or natural sugar.
6. Enjoy!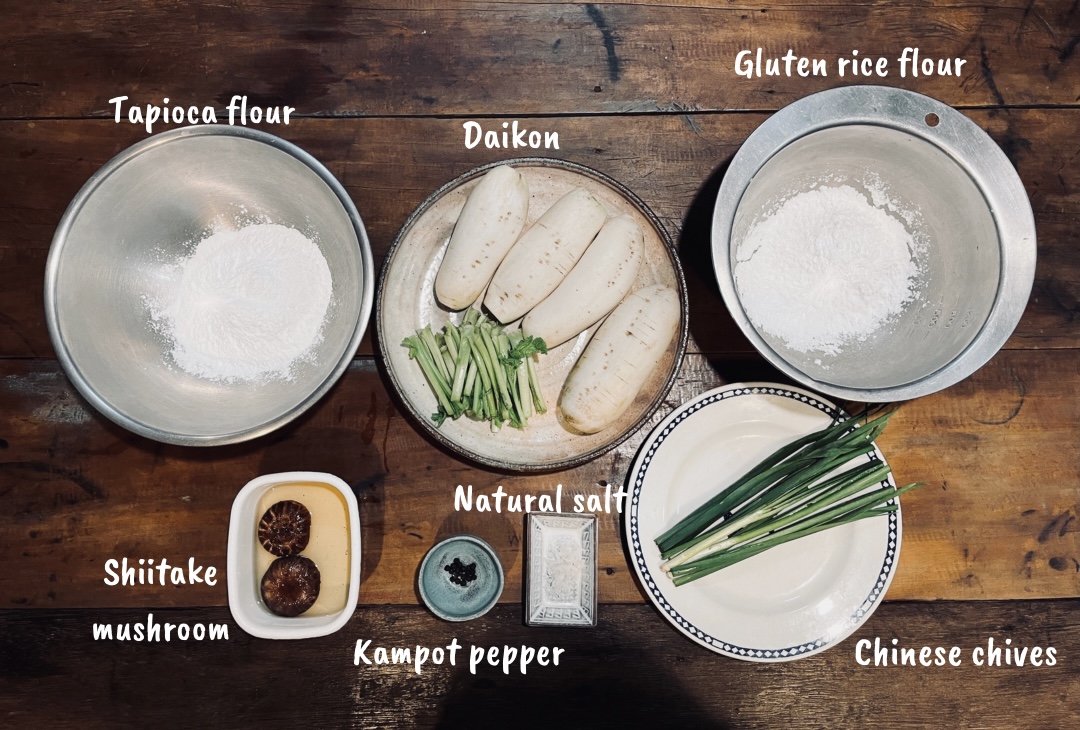 Recommended Organic Ingredients:
●Organic Gluten Rice Flour
☝︎5% discount buy from here☝︎
---
Don't forget to tag #uguisu_kitchen_plantbased and @uguisu_kitchen_plantbased on Instagram if you remake any of our recipes.
We do love to see your recreations 😉
---
大根もち(V,GF)- 中華大根餅の簡単Ver
子どもの頃大好きだった大根餅、中華の本格的なレシピでは一度蒸してから焼く、と言う2段階の調理が必要ですが、ここでは"蒸す"を省いて混ぜ合わせた生地をパンケーキを焼くようにそのままフライパンに流し入れて焼くだけのレシピです。とっても簡単でお弁当のおかずにも最適です。たくさん作って冷凍ストックしておくことも可能です。
材料:4人前

・大根 600g
・ニラ 30g
・椎茸出汁(小さめの干し椎茸2つに天然水50cc)
・もち粉/上新粉 130g
・タピオカ粉/片栗粉 130g
・天然塩 適量
・カンポットペッパー 適量
作り方:
1. 大根を全て擦り下ろします。大根の葉、ニラを小さめにカットしておきます。椎茸も小さくカットします。
2. ボウルに全ての材料(椎茸出汁も)を入れよく混ぜ合わせます。
3. フライパンに大1のお好みの油(今回はコールドプレスライスオイルを使いました)を敷き全体に行き渡らせます。弱めの中火にしてしっかりと温めます。
4. 油がしっかりと温まったら、生地を入れて焼いていきます。生地を入れたら弱火にして蓋をして片面5−7分ほど焼きます。
5. タレを作ります。醤油と酢を1:1、またお好みで味醂を追加します。今回は醤油麹とお酢で作りました。
6. お皿に盛ってネギとチリパウダー(お好みで)を散らして出来上がり。
おすすめオーガニック材料:
---
オススメのオーガニック材料をライフジャーナルにて紹介しています。またちょっとした生活に役立つ知恵袋も更新しているので是非、ブックマークよろしくお願いします。
インスタグラムに投稿する際は、#uguisu_kitchen_plantbased & @uguisu_kitchen_plantbased を忘れずに!皆様のアレンジ楽しみにしています。