Tomato Cashew Soup(V,GF) – Creamy Vegan Tomato soup.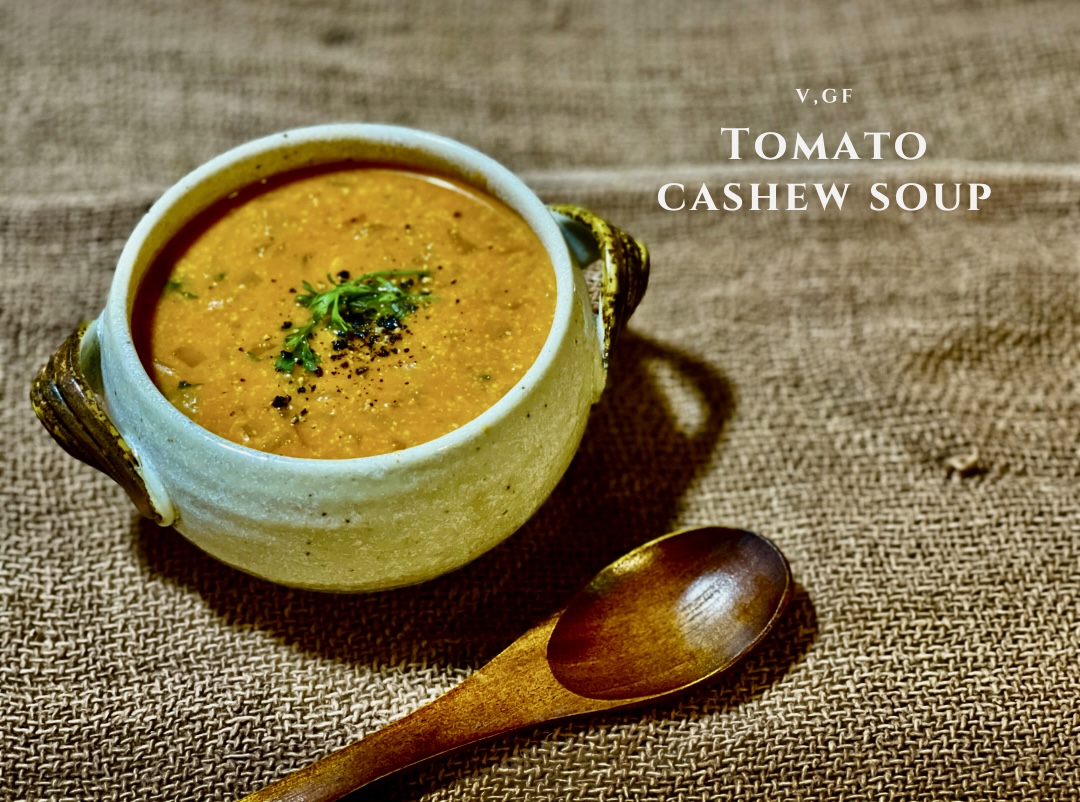 Recipe:
INGREDIENTS: serving 3 
・180g Tomato
・50g Cashew nut(soaked)
・100cc Spring Water
・1 clove Garlic
・150g Onion
・Natural Salt as needed
・Pepper as needed
・Parsley as needed
・Extra Virgin Olive Oil as needed

INSTRUCTIONS:
1. Drain the cashew water, cut the tomato into dice and chopping Onion & Garlic set aside.
2. Place tomato, cashew and water to the blender and blend it until smooth.
3. Strain the tomato soup. use spatula and push lightly squeeze well.
4. In a soup pot, add Extra virgin Olive Oil, garlic and onion. turn on low heat. sauté until onion become soft.
5. Add shred parsley, salt and pepper to the pot. Bring to a boil and turn off heat.
6. Sprinkle extra pepper and Enjoy!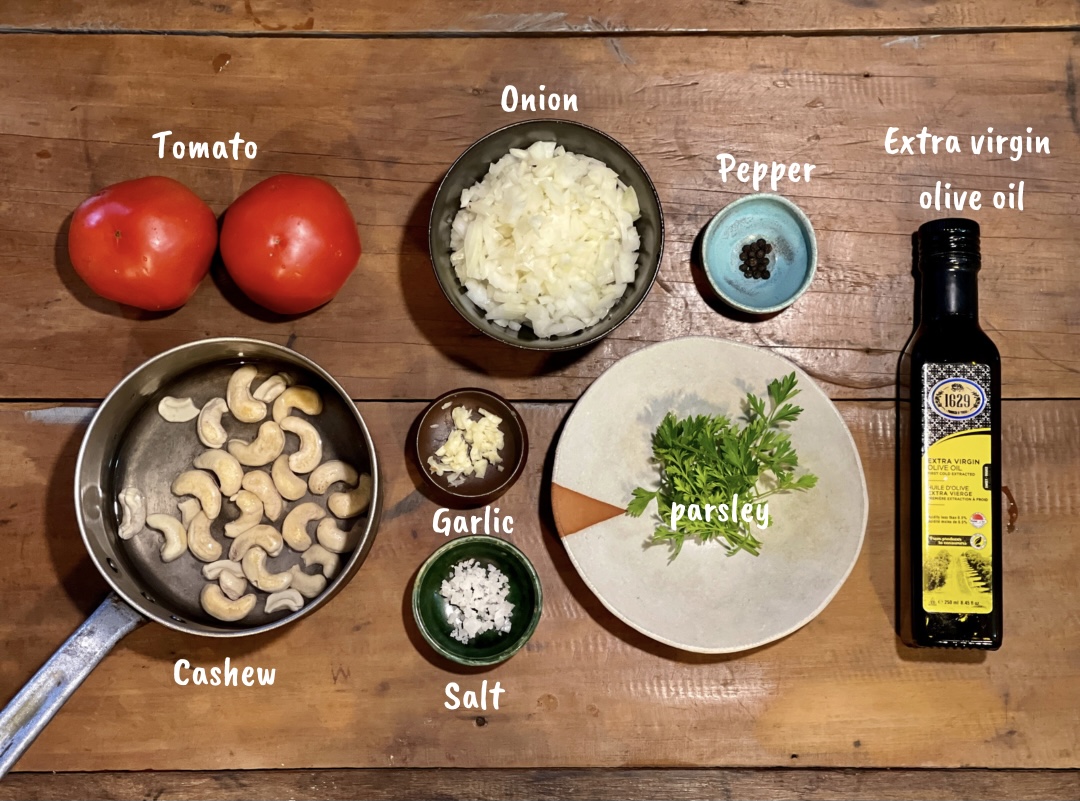 you can also made with the other nuts instead cashew. find your best
click here to buy
・Organic Extra Virgin Olive Oil from Greek
・Organic Cashew nut
at iHerb.com 
you can get 5% discount buy from here or if you're first time shopping at iHerb, $5 discount!
---
you can check the short video on Instagram
Don't forget to tag #uguisu_kitchen_plantbased and @uguisu_kitchen_plantbasedon Instagram if you remake any of our recipes.
We do love to see your recreations 😉
---
トマトとカシューナッツのスープ(V,GF)
トマト嫌いでも楽しめるトマトスープ。また全ての材料をミキサーに入れて攪拌すれば非加熱のRawスープとしても楽しめます。ブレンダーがあれば簡単、野菜を変えてアレンジ自在のスープです。野菜嫌いのお子さんにもオススメ。
材料:1人前
・トマト 180g
・カシューナッツ(浸水する) 50g
・天然水 100cc
・玉ねぎ 150g
・ニンニク 1かけ
・天然塩 適量
・カンポットペッパー
・フレッシュイタリアンパセリ
・エクストラバージンオリーブオイル

作り方:
1. 浸水しておいたカシューナッツをザルにあけ、水を切ります。トマトを適当にカットして、カシューナッツと水とともにミキサーへ入れ攪拌します。攪拌できたらボウルにザルをセットして濾します(押さえつけるようにしてよく絞ります)
2. 小鍋にオリーブオイルを入れ弱火にかけ、ニンニク、玉ねぎを加えて玉ねぎがしんなりするまでよく炒めます。
3. 玉ねぎが少し色付いてきたら、トマトスープを加えます。パセリをちぎって加え、塩を入れます。胡椒を振り一煮立ちさせて出来上がり。
NOTE:
全てをミキサーにかけるだけで火を入れず、Rawスープにすることも可能です。カシューナッツの浸水時間は最低30分〜
●オーガニックカシューナッツ
かなりお手頃価格です☟

●オリーブオイルは偽物で溢れかえっています。是非、本物を。
---
インスタグラムに工程をショート動画にして載せています。ストーリー/ハイライトをご覧ください。
オススメのオーガニック材料をライフジャーナルにて紹介しています。またちょっとした生活に役立つ知恵袋も更新しているのでブックマークをよろしくお願いいたします。
インスタグラムに投稿する際は、#uguisu_kitchen_plantbased & @uguisu_kitchen_plantbased を忘れずに!皆様のアレンジ楽しみにしています。
---
Enjoy.