Brown Rice Hemp Charcoal Pancakes with Hemp Lime Cream(V,GF)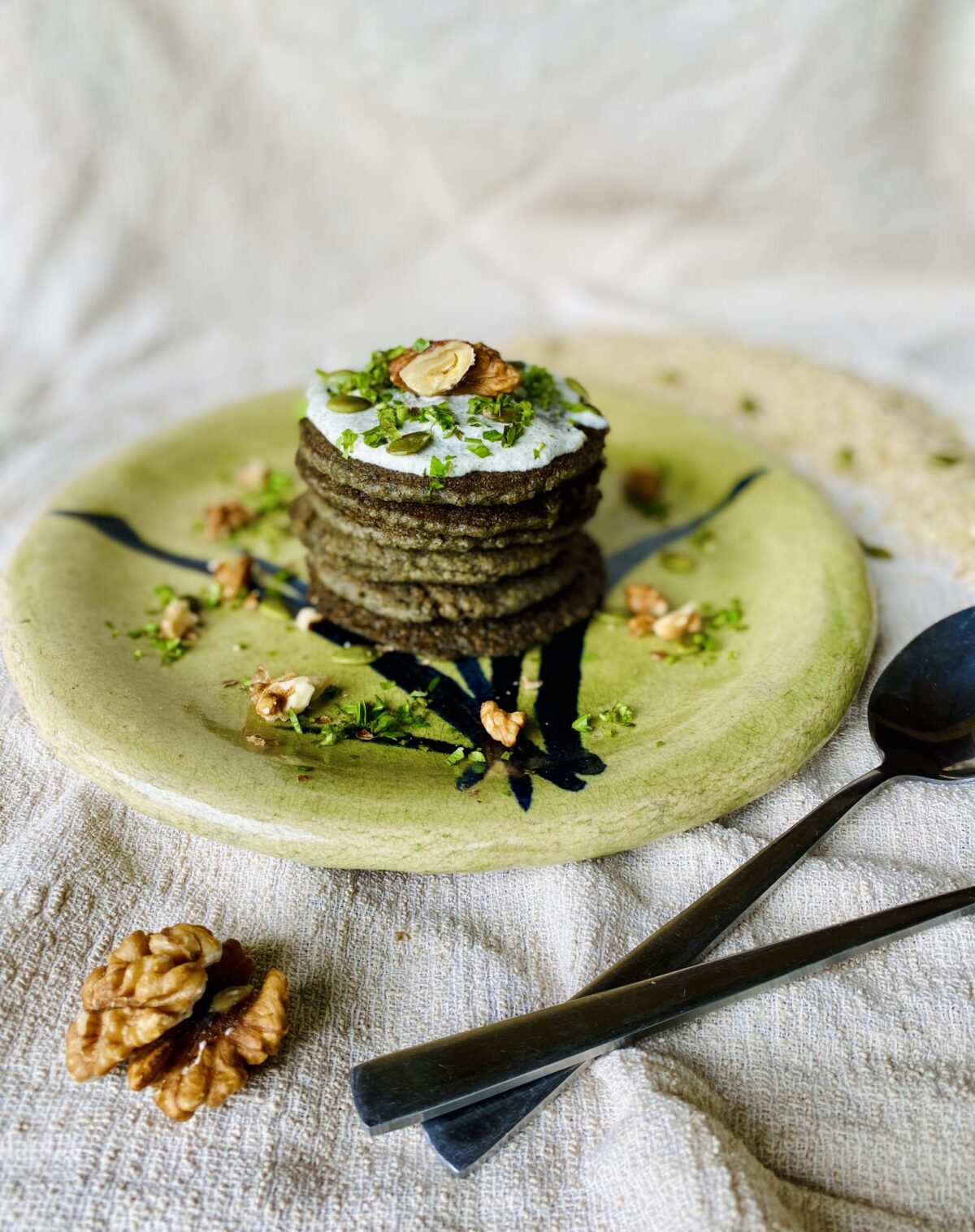 Gluten Free & Vegan pancakes made from Brown Rice. you don't need Rice Flour, Just need great quality of Brown Rice.
INGREDIENTS:
for Pancakes:
・120g Ibis Brown Rice(soaked overnight)
・〜25g Good Oil
・25g Good Sweetener
・1tsp Good Salt
・60g warm Water
・6g Aluminium free Baking Powder
for Hemp Lime Cream:
・1.5tbs Hemp Seed Nut
・1 Lime Juice or 1tbs of Lemon Juice
・1/2 tsp good Salt
INSTRUCTIONS:
1. Drain well the Brown Rice and Put all Pancake Ingredients to the Blender(Except Baking Powder)and Blend them until smooth. Add Baking Powder and blend well. Cook on a flat pan.
2. Put all Hemp lime Cream Ingredients to spice grinder and well grind until smooth.
3. Spread the Hemp Lime Cream then garnish with your favorite ingredients.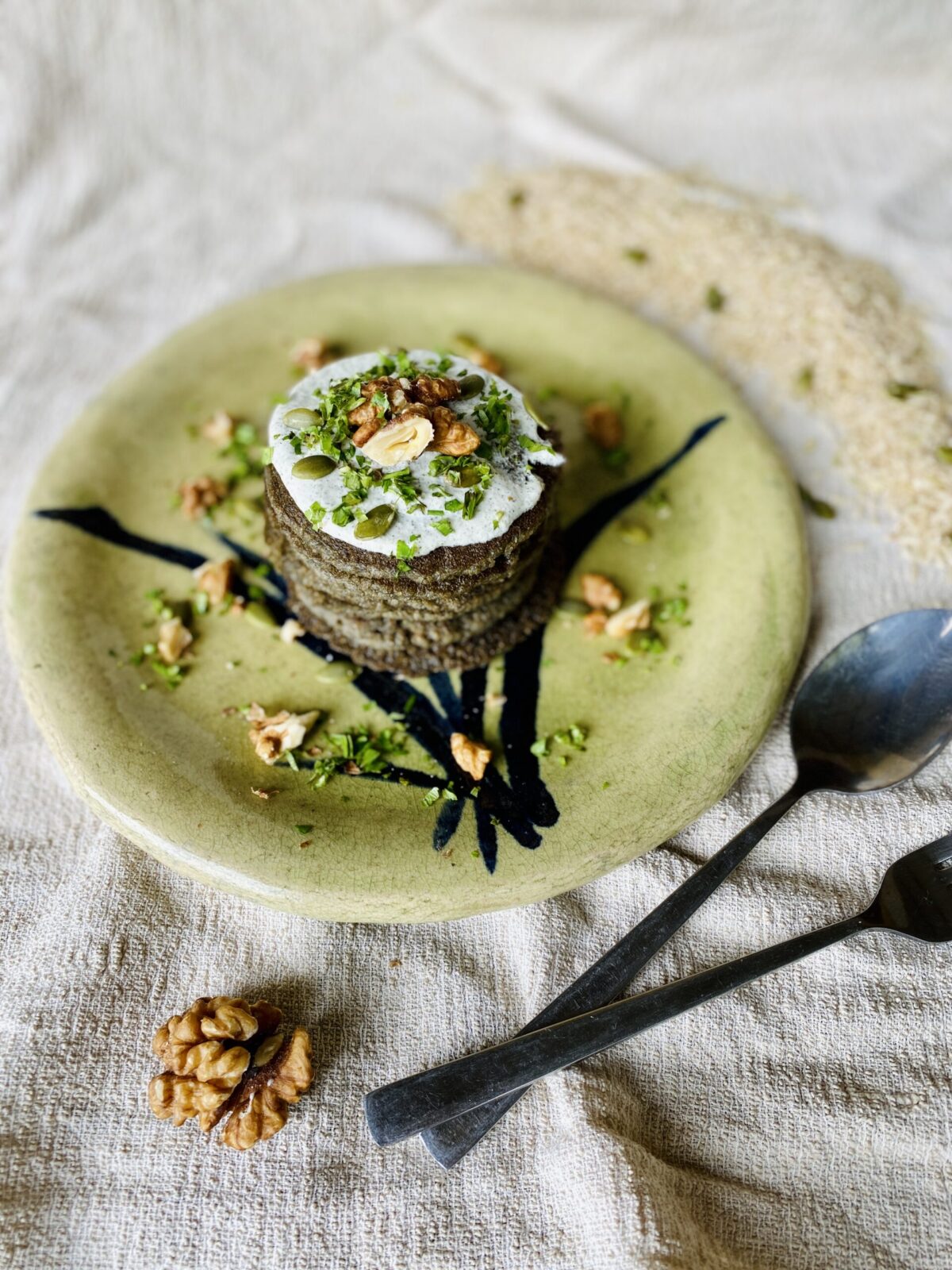 ---
Don't forget to tag #uguisu_kitchen_plantbased and @uguisu_kitchen_plantbasedon Instagram if you remake any of our recipes.
We do love to see your recreations 😉
---
玄米麻炭パンケーキとヘンプライムクリーム
生米パンのレシピを応用してパンケーキにしました。麻炭を入れてデトックス効果プラス。上のクリームはヘンプシードナッツを使って、栄養満点パンケーキ。
材料:
パンケーキ:
・オーガニック玄米(一晩浸水する)120g
・お好みのオイル 25g
・お好みの甘味料 25g
・天然塩 小さじ1
・ぬるま湯 60g
・ベーキングパウダー 6g
ヘンプライムクリーム:
・ヘンプシードナッツ 大さじ1
・ライムジュース 小さめ1つ分(又はレモンジュース大さじ1強)
・天然塩 小さじ1/2
作り方:
1. 玄米はよく水を切ります。
2. パンケーキのベーキングパウダー以外の材料全てをミキサーに入れ、滑らかになるまでよく攪拌します。
3. 滑らかになったらベーキングパウダーを加え、よく温めたフライパンに生地を流し入れ、プツプツと穴が開いてきたら裏に返し両面焼きます。
4. ヘンプライムクリームの全ての材料をミルサーに入れ、滑らかになるまで攪拌します。
5. お皿に盛り付けヘンプライムクリームを塗ってお好みで飾ります。

リンク

---
オススメのオーガニック材料をライフジャーナルにて紹介しています。またちょっとした生活に役立つ知恵袋も更新しているので是非、ブックマークをよろしくお願いいたします。
インスタグラムに投稿する際は、#uguisu_kitchen_plantbased & @uguisu_kitchen_plantbased を忘れずに!皆様のアレンジ楽しみにしています。
---