Fermented Chocolate Ice Cream (V,GF)low sugar & refined sugar free with charcoal Hemp protein.

Did you check the Recipe about Amasake and Fermented Vanilla Ice Cream? You will need Amasake to make this fermented Chocolate Ice Cream. Most Healthy, Delicious and Rich Creamy Ice Cream. If you have a Nutramilk or Kuvings hole slow juicer, slowly grind Amasake become more Sweet. but Just normal Blender also fine.
INGREDIENTS: (500g Ice Cream)
・250g Amasake ( go to Amasake Recipe☞)
・250g Coconut Cream(full fat)
・30g Organic Raw Cacao Powder
・50g Organic Palm Sugar
・2 tbsp Charcoal Hemp Protein Powder(option)
・hints of  Natural Salt
TOOLS:
Nutramilk/ Hole Slow Juicer(like Kuvings)/ Vitamix or High Speed Blender( I use Nutramilk)
INSTRUCTIONS
for Nutramilk:
1. in the Nutramilk Container, place Amasake and Salt. set Butter mode in 5min.
2. add Coconut Cream, raw cacao powder, hemp protein and palm sugar. press mix button and start.
3. Press Dispense and fill your storage container.
4. take Pulp from the Nutramilk Container and Squeeze milk out of Pulp.
5. Pour into Milk to Storage Container and Freeze it.
for Kuvings:
In the Kuvings, Put each ingredient one at a time and fill your storage container and Freeze it.
for Blender:
Just put all Ingredients and Blend well until Smooth. Strain and Squeeze or just Directly(if you don't mind the texture) fill your storage Container and Freeze it.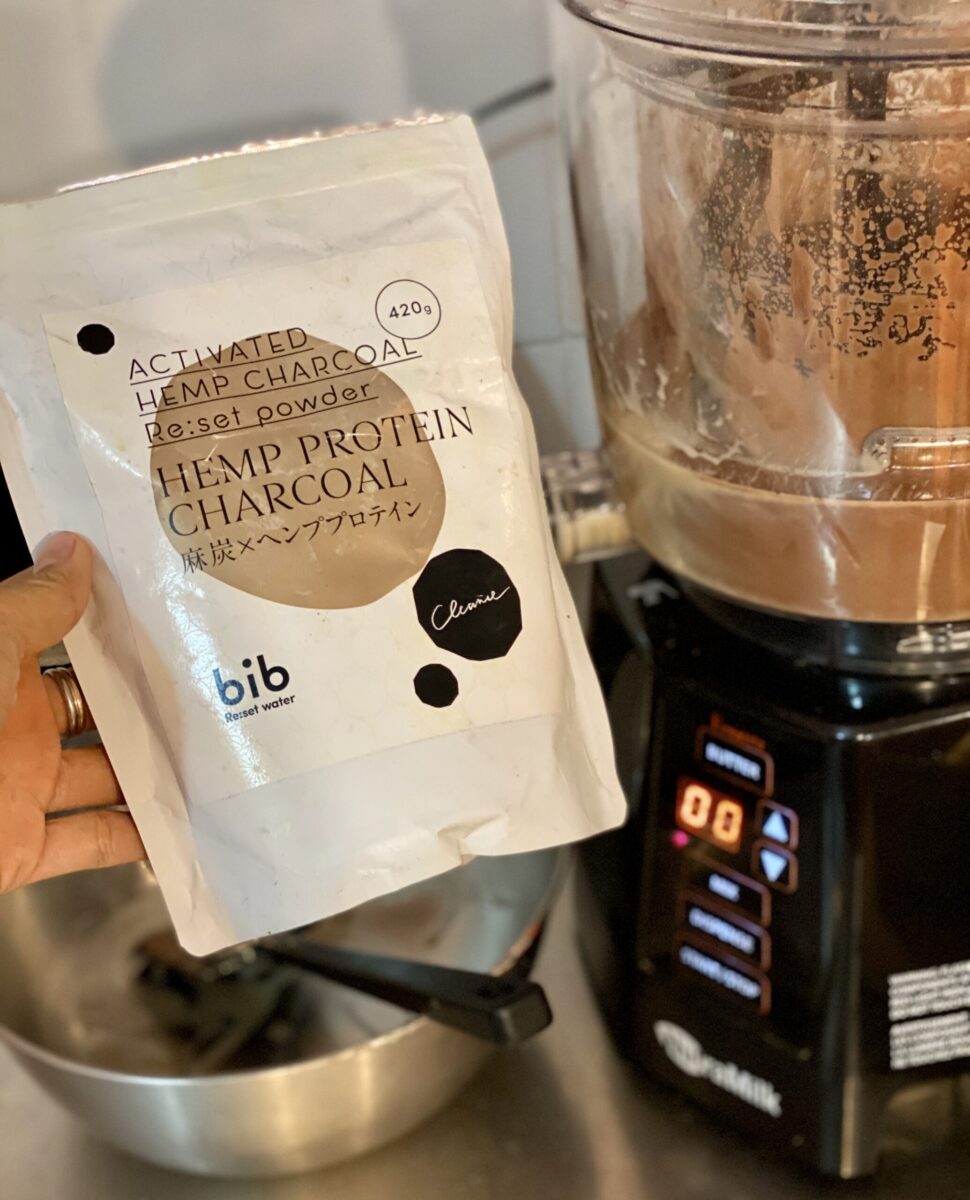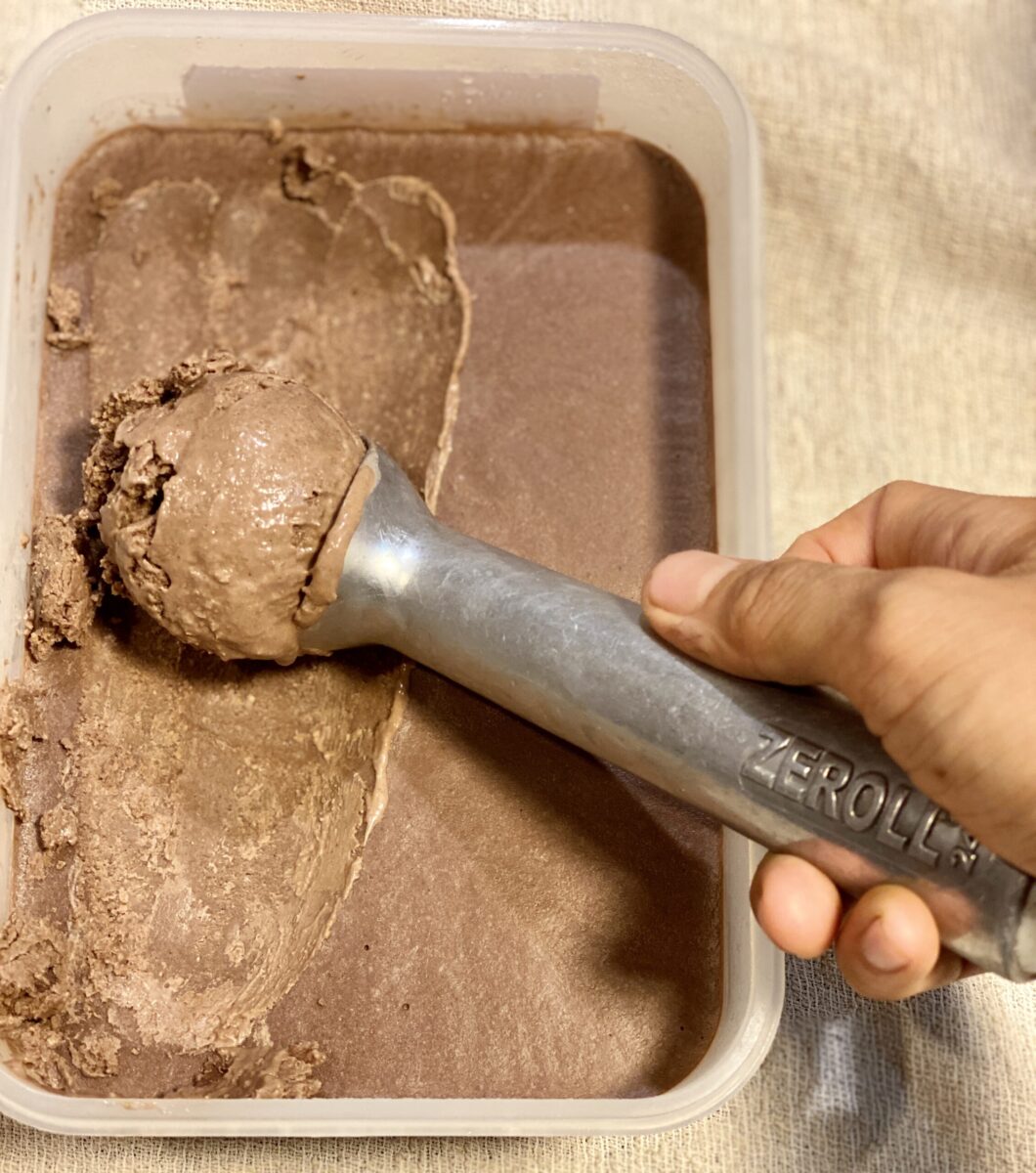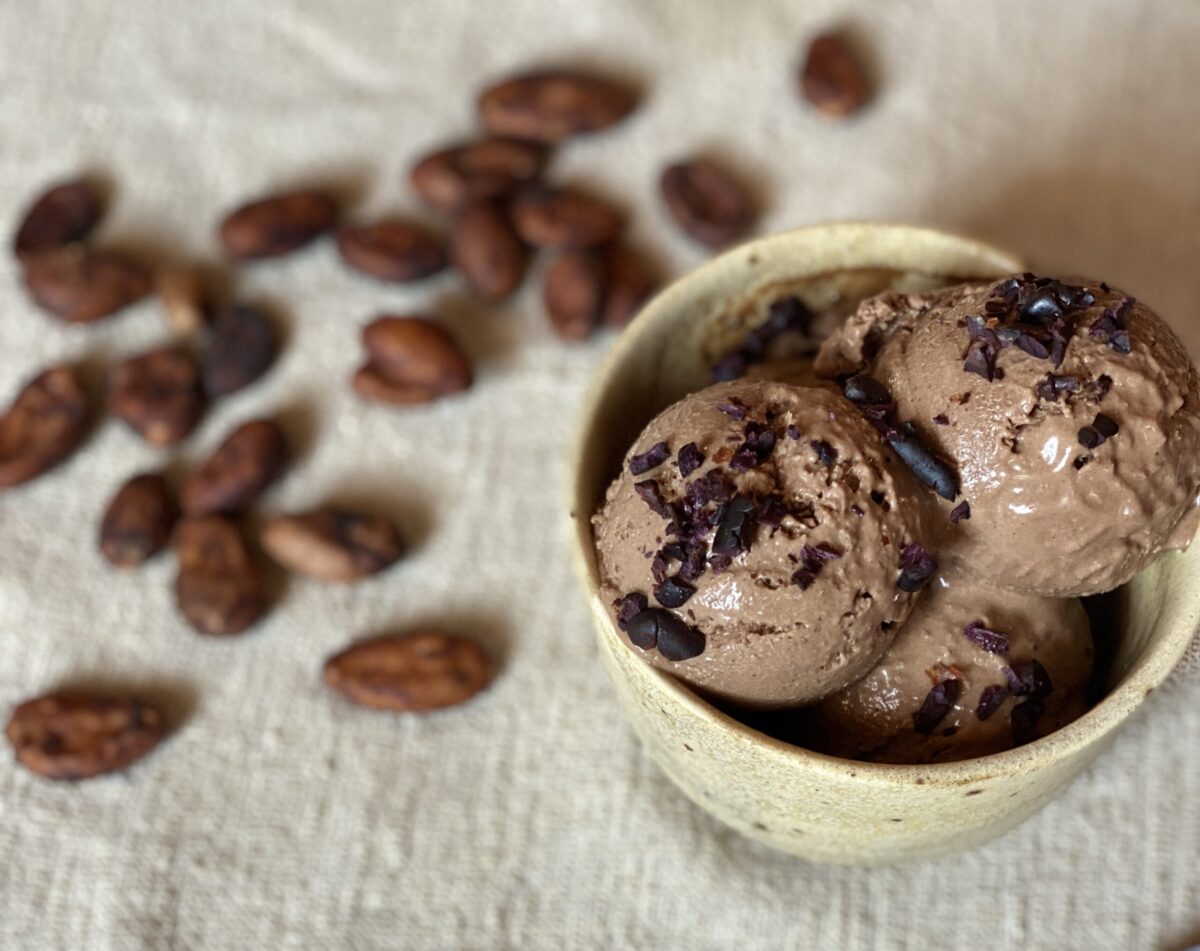 want to get Amasake? if you are in Cambodia, message as @uguisusabou we can make it for you.
How to make ☞ "Amasake"
click here to buy Hemp Protein at iHerb.
you can get 5% discount buy from here.
---
Don't forget to tag #uguisu_kitchen_plantbased and @uguisu_kitchen_plantbasedon Instagram if you remake any of our recipes.
We do love to see your recreations 😉
---
甘酒チョコレートアイスクリーム(V,GF)砂糖控えめ、白砂糖なし、麻炭ヘンププロテイン入り。
前回のレシピ、濃縮玄米甘酒を使って砂糖なしのバニラアイスクリームのアレンジ。チョコレートアイスにする場合は、ほんの少し甘さを加えた方が濃厚になるので10%だけ、パームシュガーを加えて作ります。玄米甘酒で陰性に傾きすぎない、身体に優しいアイスクリームの出来上がりです。今回は麻炭ヘンププロテインも加えて、さらに栄養価up。ホールスロージューサーをお持ちの方は是非そちらで作って下さい。低速で回転することで玄米甘酒の甘味がさらに引き出されます。もちろん、普通のミキサーでも作ることが可能です。ヴィーガンアイスクリームとは思えない濃厚でクリーミーなチョコレートアイスクリーム、是非お試しください。
材料:(出来上がり500g)
・濃縮玄米甘酒 250g (濃縮玄米甘酒のレシピはこちら☞)
・ココナッツクリーム 250g
・オーガニックローカカオパウダー 30g
・オーガニックパームシュガー50g
・麻炭ヘンププロテイン 大2
・天然塩 ひとつまみ
ココナッツクリーム は脂肪分だけを使います。冷蔵庫に数時間入れておくと脂肪分と水分に分離するので、脂肪分だけを使ってください。水分を入れるとシャーベット状になってしまいます。
作り方:
ホールスロージューサーの場合:
すべての材料をジューサーに入れ保存容器に入れて冷凍庫へ。
通常のミキサーの場合:
すべての材料をミキサーに入れ滑らかになるまで攪拌します。保存容器に移して冷凍庫へ。容器に移す際に濾してから入れると一層滑らかな舌触りに。そのままでもしっかりと攪拌すれば滑らかに、わざと粗めにしても、粒々の食感が楽しめます。



●オーガニックココナッツクリーム

リンク
●オーガニックローカカオパウダー

●愛用しているぜロール社のアイスクリームスクープ
リンク
手作りのアイスクリームはカチカチになるものです。普通のアイスクリームスクープを何度も壊しました、、、でもこのゼロールのものは大丈夫。頑丈で、体温が伝わりアイスをすくい易いよう設計されています。手作りアイスにオススメ。スクープで綺麗な形を作れるだけで、美味しさもさらに増すものです。
---
オススメのオーガニック材料をライフジャーナルにて紹介しています。またちょっとした生活に役立つ知恵袋も更新しているのでブックマークをよろしくお願いいたします。
---
Enjoy.