Sesame Mayonnaise (V,GF,SOY FREE, NUT FREE, FERMENTED)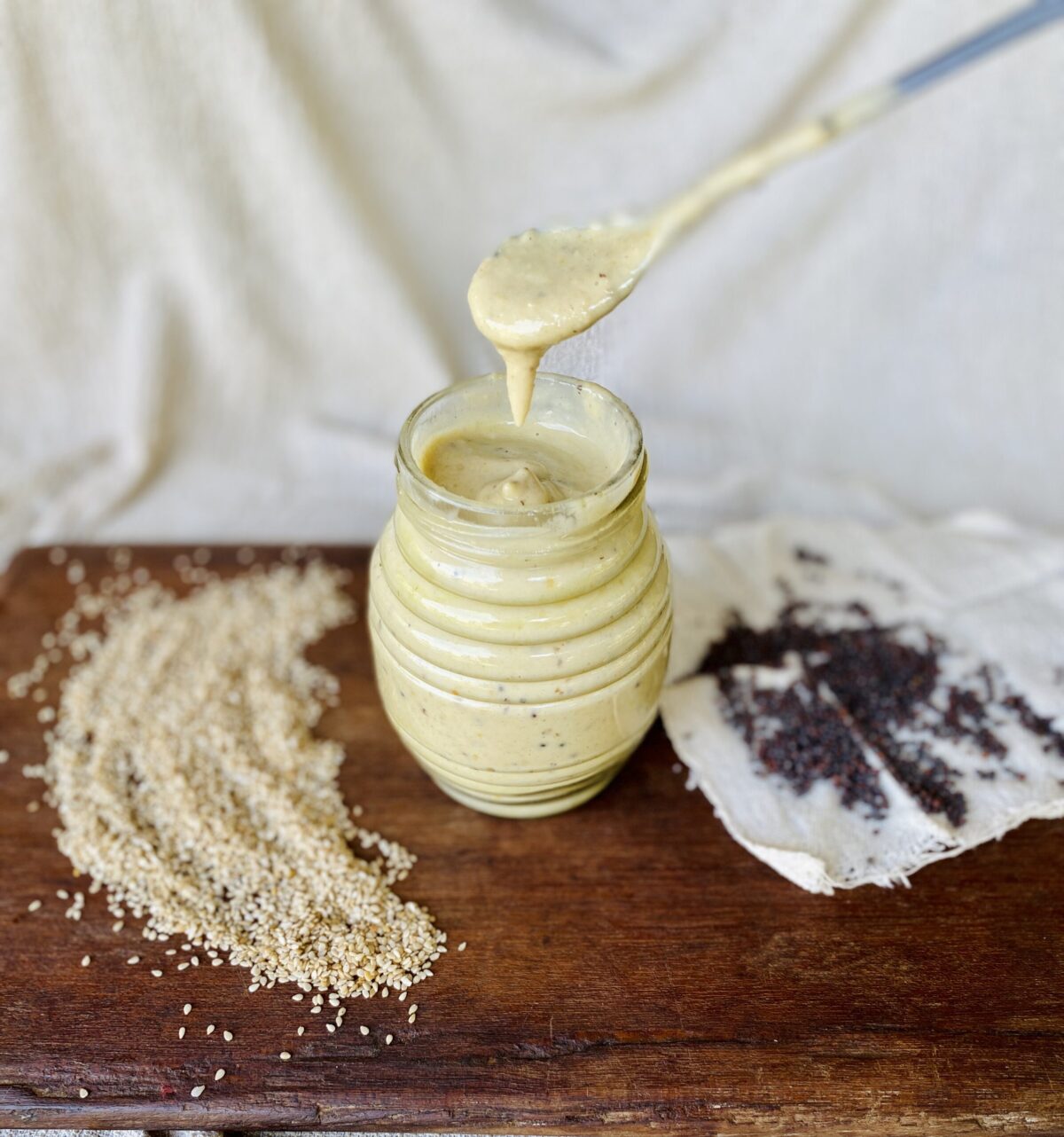 Basic Vegan MAYO with White Sesame Paste. More Rich and Creamy. No-Soy or even Nuts. this is made from Brown Rice!
INGREDIENTS:
・100g Shio Koji (if Shio Koji has water, drain it before use)
・15g Apple Cider Vinegar
・20g Sesame Butter or Tahini
・60g Extra Virgin Olive Oil
・1.5tsp Black Mustard Seed
(Sesame butter)
2cup of Roasted White Sesame seed and a hints of good Salt to Nutramilk. And set Butter mode 7 min. Super smooth Sesame Butter!
INSTRUCTIONS:
1. Shio Koji, Vinegar, Sesame Butter and half of Olive Oil in high speed Blender and Blend well.
2. Add another half Olive Oil little by little.
3. Add Mustard seed and blended a few seconds.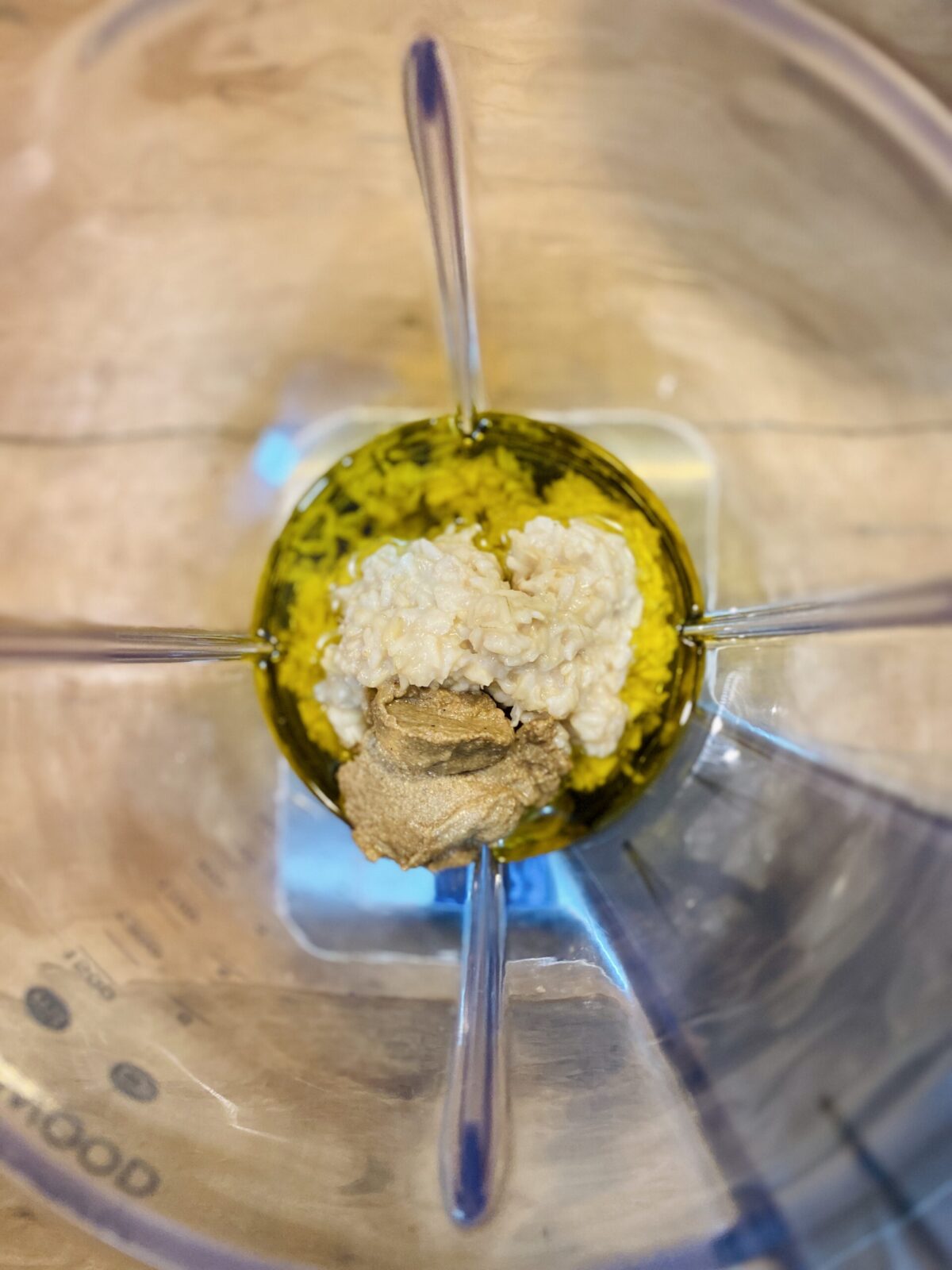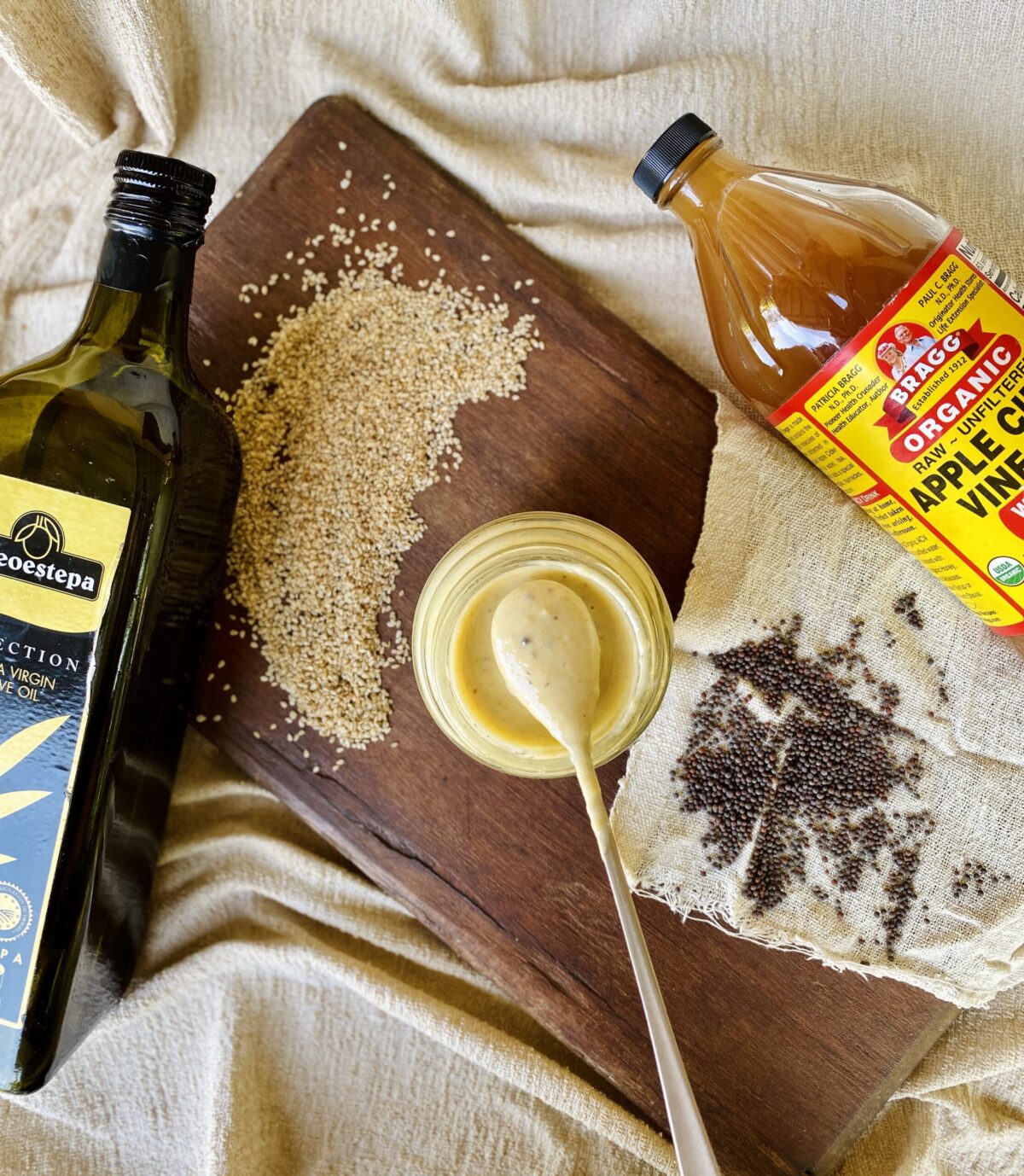 NOTE: Keep in Fridge last 1month.
You can get Organic "Shio Koji" from @uguisu_sabou if you are in Cambodia!
How to make☞  "Shio Koji"? 
---
Don't forget to tag #uguisu_kitchen_plantbased and @uguisu_kitchen_plantbasedon Instagram if you remake any of our recipes.
We do love to see your recreations 😉
---
塩麹で作る、ヴィーガンごまマヨネーズ
前回の塩麹で作る、基本のヴィーガンマヨネーズのアレンジバージョン、ごまマヨネーズ。基本のマヨネーズよりも濃厚でクリーミーなマヨネーズに仕上がります。
こちらも甘酒から作る塩麹をお勧めします。詳しくは☞https://uguisusabou.com/shio-koji/
*もちろん通常の塩麹でも作れますが、水切りを忘れずに。
材料:
・塩麹 100g
・アップルサイダービネガー 15g
・エクストラバージンオリーブオイル 60g
・練りごま/タヒニ 20g
・マスタードシード 小さじ1.5
作り方:
1. 塩麹、ビネガー、練りごま、オリーブオイルの半量をミキサーに入れ良く攪拌します。
2. しっかりと混ざったら残りの半量のオリーブオイルを攪拌しながら少しずつ加えます。
3. 最後にマスタードシードを加え数秒攪拌し出来上がり。
メモ:
冷蔵で1ヶ月は保存可能。
リンク
リンク
---
オススメのオーガニック材料をライフジャーナルにて紹介しています。またちょっとした生活に役立つ知恵袋も更新しているので是非、ブックマークをよろしくお願いいたします。
インスタグラムに投稿する際は、#uguisu_kitchen_plantbased のタグ、@uguisu_kitchen_plantbased を忘れずに!皆様のアレンジ楽しみにしています。
---
Enjoy.