Tamarind Brown Rice – Asian Flavored Sweet & Sour Fried Rice(V,GF)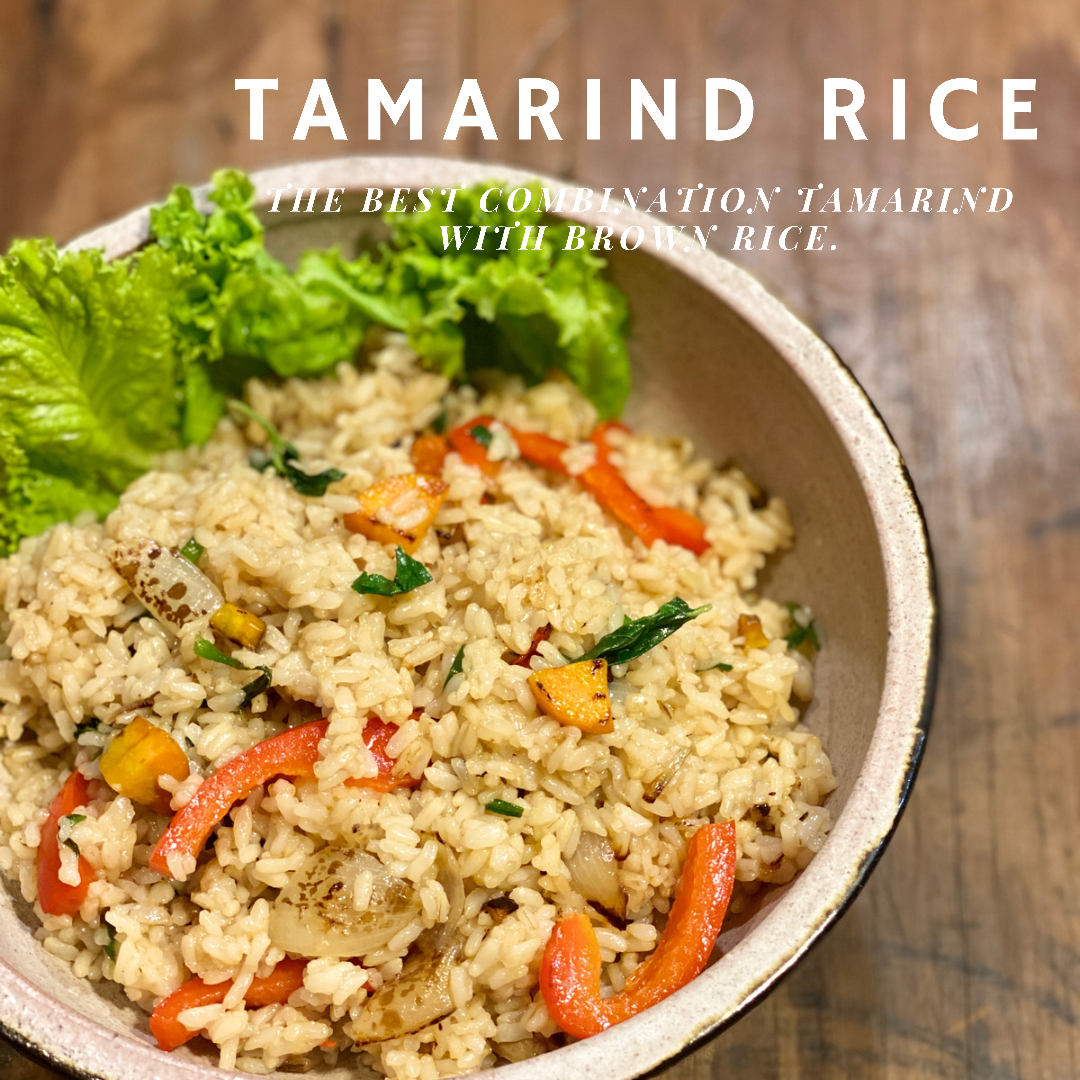 Tamarind has so many Health Benefits.
Boost Immune system

Purifies Blood

Prevents hair loss

Improve Digestion

Clean up Skin

Rich Source of Vitamin C
and more…
you will need Sweet Tamarind Sauce. check the recipe first☞
INGREDIENTS: serving 2-3

・500g Brown Rice (cooked)
・2 small Onion
・2 cloves Garlic
・50g Sweet Tamarind Sauce (how to make ☞ Tamarind Sauce)
・2 tsp Natural Salt
・1 Red Chili (option)

・your Choice of  Veggies
・your Choice of Herbs (suggest Holy Basil)
INSTRUCTIONS:
1. Chopped Onion & Garlic. Cut your Choice of Veggies into your size.
2.  pour the Extra Virgin Olive Oil to the Iron pan add Garlic and Heat it over medium heat. 
3. when Garlic get aromatic, add Onion and Veggies(and Chili). still keep over medium heat. stir-fry until soft.
4. when the Veggies getting soft, turn to the high Heat and add Brown Rice.
5. Separate the Rice while Toasted Brown Rice.
6. add Salt and Herbs and stir-fry until Rice become golden.
7. well cooked, turn off the burner add Tamarind Sauce and well mixed.
8. Enjoy.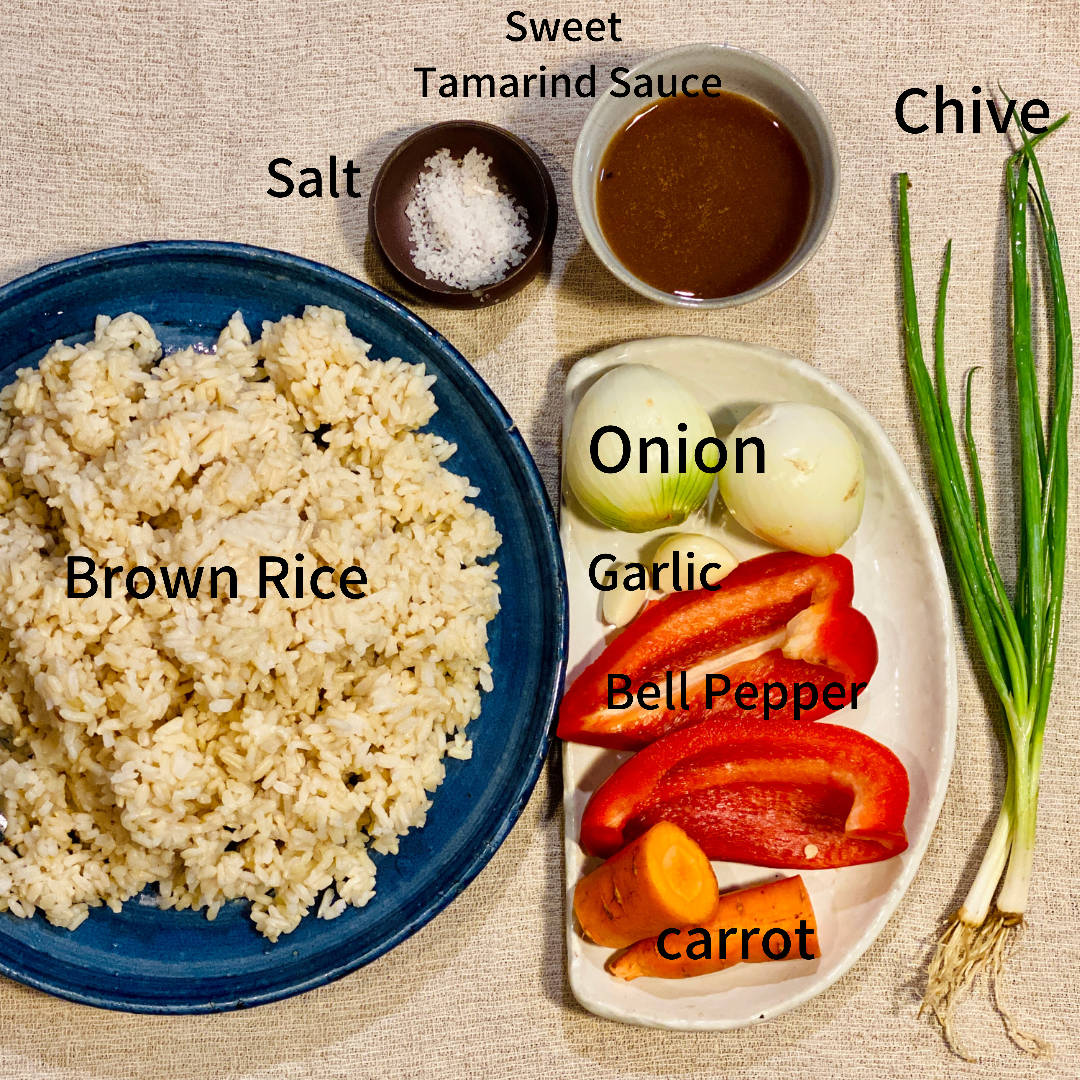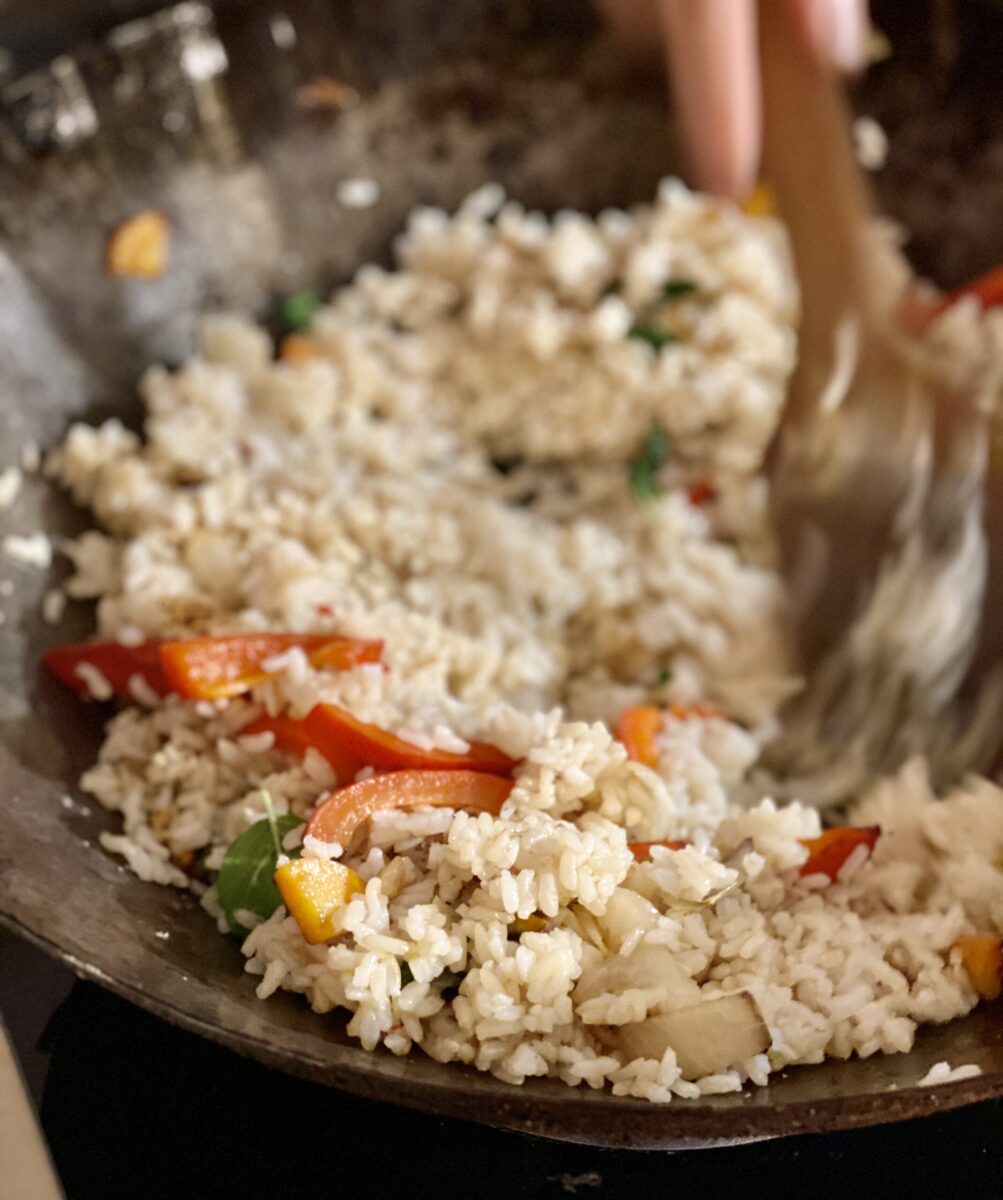 the best combination with Brown Rice. not White Rice. Totally different. if you can find Holy Basil, will be very nice Asian Flavored Brown Rice. very famous for Kids too! try it!
---
Don't forget to tag #uguisu_kitchen_plantbased and @uguisu_kitchen_plantbased on Instagram if you remake any of our recipes.
We do love to see your recreations 😉
---
タマリンドライス−甘酸っぱいエスニック玄米ご飯
嬉しい栄養価をたくさん含んだタマリンド。ここ東南アジアやインドでは酸味付のアクセントに欠かせないフルーツです。スープに、カレーにタマリンドの独特な酸味が、他にはない美味しさを生み出します。タマリンドには2種、酸っぱいものとそのまま食べられる甘いものがあります。酸っぱいものは塩をつけて齧ったり、潰してソースにして魚と一緒に食べたりします。甘いものはフルーツとしてそのまま食べると杏のような甘酸っぱさでとても美味しいものです。
アンチエイジング
抗癌作用
免疫力アップ
高血圧に
便秘解消
豊富なビタミンC
など、その他にもたくさんの効果を持つ南国のスーパーフルーツです。
このレシピには、スイートタマリンドソースが必要です。まずはそちらをチェック☞
材料:2−3人前

・炊いた玄米 500g
・小さめの玉ねぎ 2玉
・ニンニク 2片
・スイートタマリンドソース 50g (
タマリンドソースの作り方☞
)
・チリ 一本(お好みで)
・天然塩 小2
・お好みの野菜
・お好みのハーブ(あればホーリーバジルがお勧め)
作り方:
1. ニンニクと玉ねぎを小さめに刻み、お好みの野菜を食べやすい大きさにカットします。
2. フライパンにエクストラバージンオリーブオイルをしき、ニンニクを入れ中火にかけます。
3. ニンニクの香りが出たら玉ねぎと野菜を加え炒めます。チリを入れる場合はここで。
4. 野菜が少ししんなりしてきたら強火にして玄米を加えます。
5. 焼き付けるようにしてお米をほぐしながら炒めます。
6. よく混ざったら塩とハーブを加えさらに炒めます。少し焦げ目が付くくらいでも美味しいです。
7. しっかりと火が通ったら火を止めてタマリンドソースを回し入れよく混ぜ合わせて出来上がり。
どこかケチャップライスのような懐かしい味わいでもあり、異国感溢れるエスニックライスでもあります。我が家の子どもたちも大好物。鶯茶房の裏メニュー的存在で人気でした。ハーブはホーリーバジルが手に入れば一層エスニックな雰囲気に。なければネギやイタリアンバジル、ミントなどでも美味しくできます。暑い日にご飯がすすむ、そんな一品です。
---
オススメのオーガニック材料をライフジャーナルにて紹介しています。またちょっとした生活に役立つ知恵袋も更新しているので是非、ブックマークよろしくお願いします。
インスタグラムに投稿する際は、#uguisu_kitchen_plantbased & @uguisu_kitchen_plantbased を忘れずに!皆様のアレンジ楽しみにしています。