Pumpkin Coconut Potage(V,GF,SOY FREE) – easy and tasty.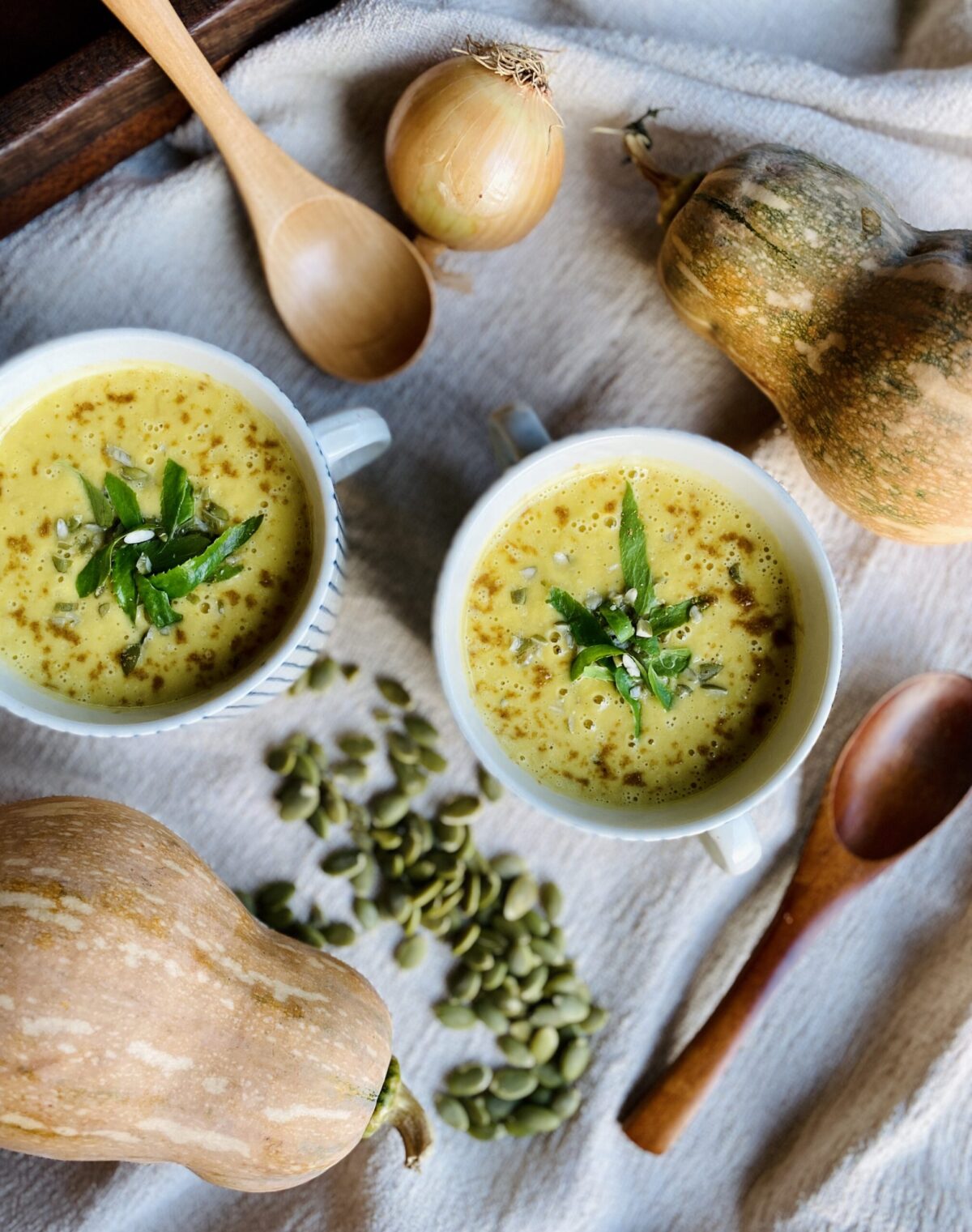 easy and quick Creamy Soup Recipe.
INGREDIENTS:
・200g steamed Pumpkin
・50g steamed Onion
・200cc+150cc Coconut Milk
・2-3 tsp good Salt
INSTRUCTIONS:
1. Pumpkin, Onion, Salt and 200cc of Coconut milk to Blender and well mixed until smooth.
2. add 150cc Coconut Milk and mixed.
3. Pour into cup and garnish with yourfavorite herbs and spices.
If you can get Fresh Coconut Milk, try to make with Fresh. Definitely Delicious.
NOTE:
when you steamed Veggies, don't steam in high heat. slowly steamed in a low heat, veggies are more Sweet and become a savory Potage.

---
Don't forget to tag #uguisu_kitchen_plantbased and @uguisu_kitchen_plantbasedon Instagram if you remake any of our recipes.
We do love to see your recreations 😉
---
かぼちゃのココナッツポタージュ
大人も子どもも大好き、簡単濃厚クリーミーなポタージュスープです。
材料:
・蒸しかぼちゃ 200g
・蒸し玉ねぎ 50g
・ココナッツミルク 200cc+150cc
・天然塩 小さじ2−3
作り方:

かぼちゃ、玉ねぎ、塩、ココナッツミルク200ccをブレンダーに入れよく攪拌します。滑らかになったら残りのココナッツミルク150ccを足して再度攪拌。全体が混ざったら出来上がりです。ハイパワーブレンダーならココナッツミルクを2回に分けずに入れても綺麗に出来上がります。
ココナッツミルクでなくてもお好みの植物ミルクでどうぞ。
NOTE:
野菜は低温でゆっくり蒸すことにより甘味が出るので是非、低温蒸しを。甘味の効いた美味しいポタージュに仕上がります。
リンク
---
オススメのオーガニック材料をライフジャーナルにて紹介しています。またちょっとした生活に役立つ知恵袋も更新しているのでブックマークをよろしくお願いいたします。
インスタグラムに投稿する際は、#uguisu_kitchen_plantbased & @uguisu_kitchen_plantbased を忘れずに!皆様のアレンジ楽しみにしています。
---
Enjoy.