Grilled Banana – the best easy snack.can eat peel too.(V,GF)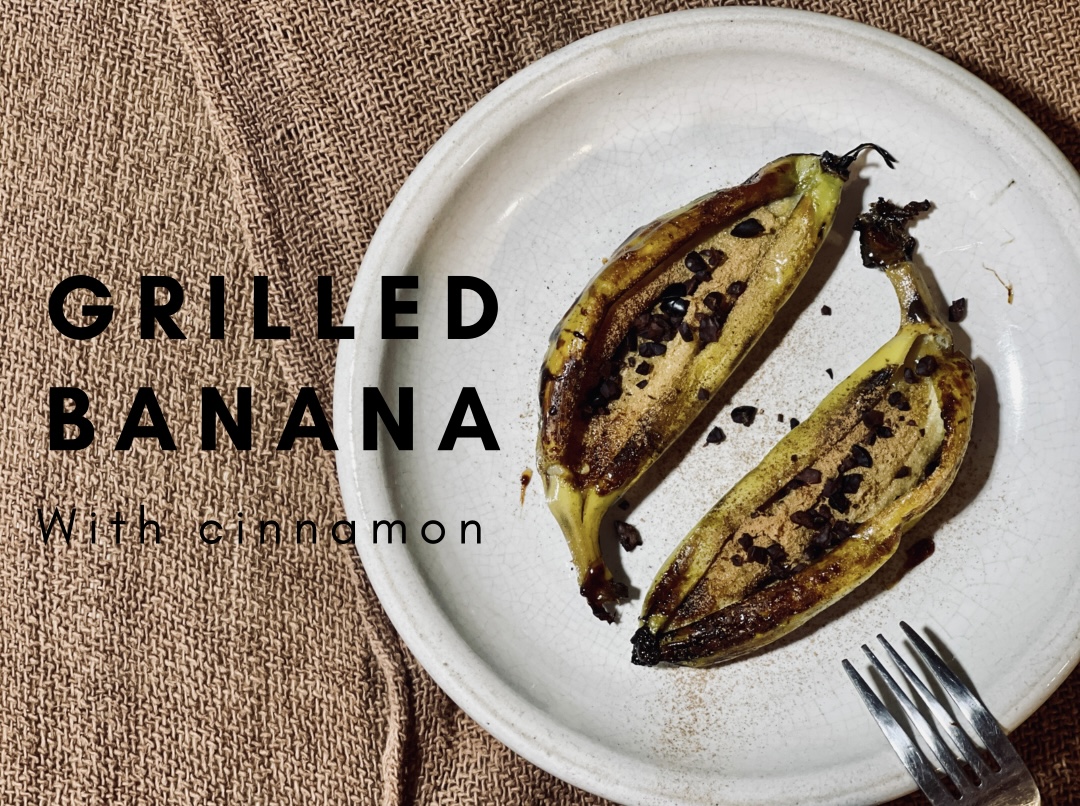 grilled banana is famous in south east Asia. you can eat peel too if that's organic banana.
Recipe:
INGREDIENTS
serving 2
・2 Organic Bananas (not too ripe a bit young is the best)
・1 tsp Cold pressed Coconut oil
・Cyron Cinnamon
・Cacao Nib

Method:
1. set up the banana to the hot sandwich maker and make snick (one side) to the banana then a bit open the peel.
2. pour the coconut oil to the banana (from snick part)
3. close lid and heat on medium heat 5min each side.
4. transfer to the plate, sprinkle the cinnamon powder and cacao nib. 
5. Enjoy!
⚠️For the banana peel, eat with a bit of coconut palm sugar, tasty. or you can use it for stir-fry with veggies, fried with battered.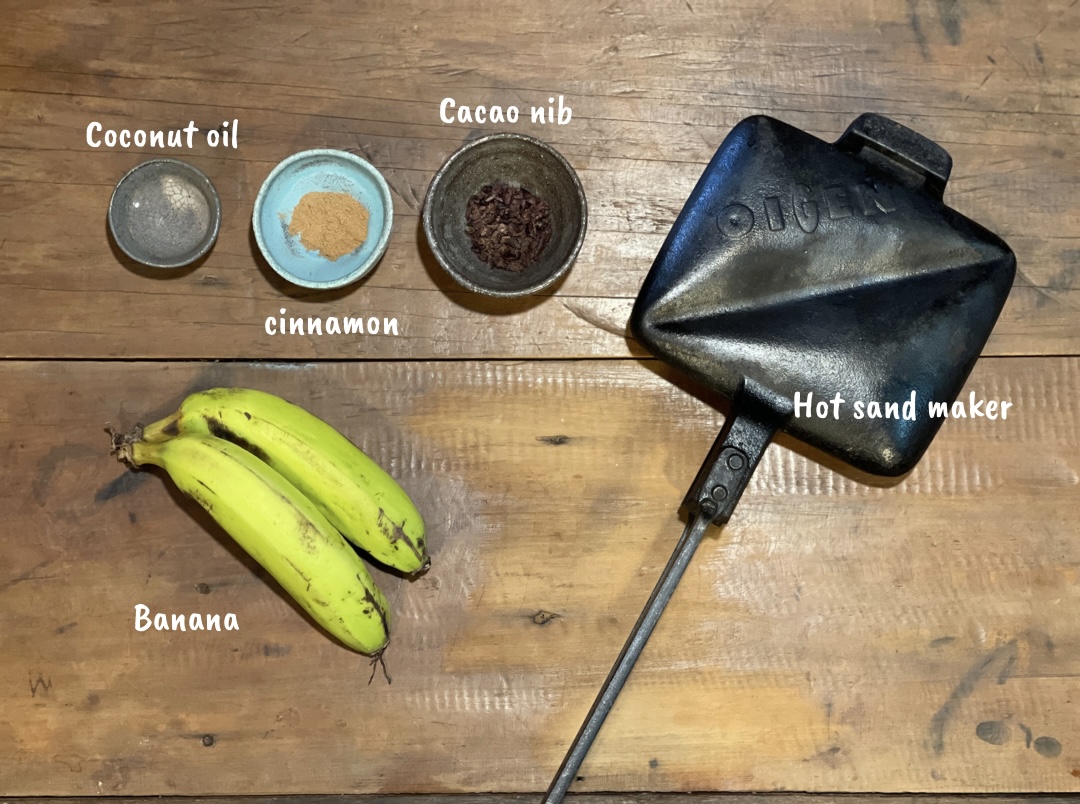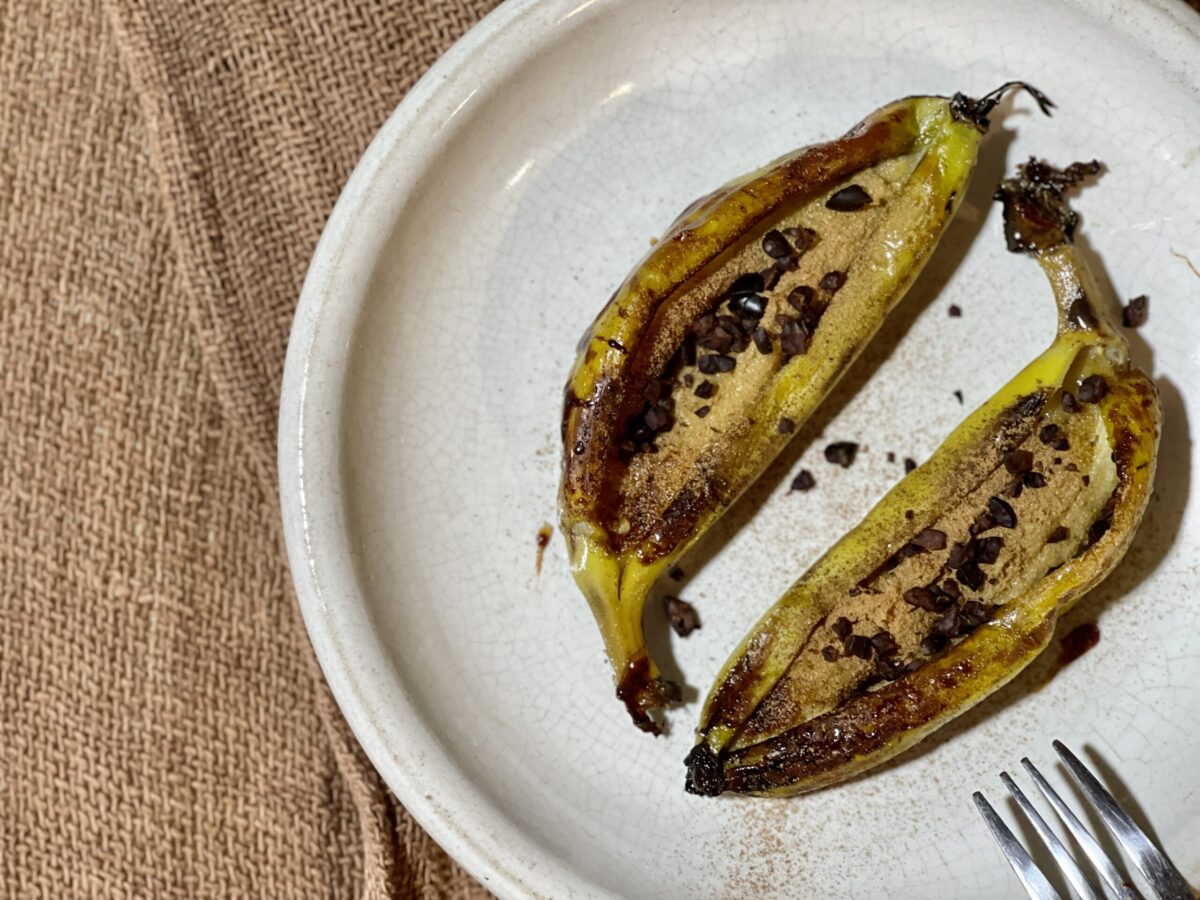 recommended to use iron sandwich maker if you have it!
---
---
you can check how to make: on Instagram stories or Highlights.
Don't forget to tag #uguisu_kitchen_plantbased and @uguisu_kitchen_plantbased on Instagram if you remake any of our recipes.
We do love to see your recreations 😉
---
ホットサンドメーカーで作る焼きバナナ(V,GF) – 皮まで食べられる。
東南アジアで定番の焼きバナナ。焼きバナナは熟して食べごろになったバナナよりも、少し若くて硬い状態のバナナで作るのがオススメです。オーガニックのバナナが手に入れば、皮まで食べられるのが嬉しいところ。簡単で美味しいのでぜひお試しください。
材料:
4-5人前

・バナナ(熟す少し前のものが理想)2本
・コールドプレスココナッツオイル 小1
・セイロンシナモンパウダー
・カカオニブ
作り方:
1. バナナをホットサンドメーカーにセットします。片面に薄く切り込みを入れ、そこにココナッツオイルを流し込みます。
2. 蓋をして中火で片面5分づつ。美味しそうにちょっぴり焦げ目がついたらOKです。
3. お皿に移し、シナモンパウダーを振りかけカカオニブを散らしたら出来上がり。
⚠️バナナの皮は食べられます。ココナッツシュガーを振ってそのまま食べる、野菜炒めに入れる、衣をつけて揚げる。どれも美味しいのでオーガニックが手に入った際は食べてみて下さい。
---
南部鉄ホットサンドメーカー
我が家で愛用しているのと同じものです。
オーガニックセイロンシナモンパウダー
シナモンにも種類があり、セイロンシナモンが一番スイーツや飲み物にはオススメです。
オーガニックコールドプレスココナッツオイル
ほぼ劣化しないオイルとして一本持っておくのがオススメ。
エスニック料理にココナッツパームシュガーは欠かせません。これがあるから本場に近い味が出来上がるのです。

---
インスタグラムのストーリー/ハイライトに工程のショート動画を載せていますので、参考にしてください。
オススメのオーガニック材料をライフジャーナルにて紹介しています。またちょっとした生活に役立つ知恵袋も更新しているので是非、ブックマークよろしくお願いします。
インスタグラムに投稿する際は、#uguisu_kitchen_plantbased & @uguisu_kitchen_plantbased を忘れずに!皆様のアレンジ楽しみにしています。